EVERY STOLEN BREATH
The Swarm is unrecognizable, untraceable, and unpredictable—random attacks on the streets of Chicago by a mob of crazed teens that leaves death in its wake. It's been two years since the last attack, but Lia Finch has found clues that reveal the Swarm is ready to claim a new victim.
Lia is the only one still pursuing her father's killers, two years after attorney Steven Finch's murder by the Swarm. Devastated and desperate for answers, Lia will do anything to uncover the reasons behind his death and to stop someone else from being struck down. But due to debilitating asthma and PTSD that leaves her with a tenuous hold on reality, Lia is the last person to mount a crusade on her own.
After a close encounter with the Swarm puts Lia on their radar, she teams up with a teen hacker, a reporter, and a mysterious stranger who knows firsthand how the mob works. Together, they work to uncover the master puppeteer behind the group. Though if Lia and her network don't stop the person pulling the strings—and fast—Lia may end up the next target.
Inspired by the real-life "flash mob" violence that struck Chicago in 2011, Every Stolen Breath by debut author Kimberly Gabriel is a fast-paced and immersive thriller that shows just how hard one girl will fight back, knowing any breath might be her last.
Purchase Links
MY TIDBITS
This is the kind of book to take to a comfy chair because the tale is impossible to put down until that last page.
Lia's father died at the hands of The Swarm, a group of hundreds of teens who beat unsuspecting victims to death. She's obsessed with learning who they are and thanks to help from her friend, has discovered where and when the next attack will take place. But things don't run as she'd planned, and she's washed up on shore of the mayor's house. She might have survived, but she's now attracted the attention of The Swarm. She doesn't know who to trust or what actions she should take. She only knows that she could be next.
From the very first page, this read grabs and doesn't let go. The pacing holds steady, while a well-laid mystery unfolds. Lia is a wonderful heroine. She's determined, loves her family dearly, and is stronger than she appears or believes. The title hints at her asthma problem, which causes her quite a few problems and makes her an even easier target for those who'd do her harm. But it's her inner strength, which makes her a girl to root for until the very end.
This is a wonderful game of cat and mouse, where it's almost impossible to guess who is on which side. There are several characters in play, all which claim to have her best interests at heart but all which could be trying to see how much a threat she truly is. More than a few moments and decisions cause reason to hold the breath, since its impossible to guess what will happen next. The press, the mayor, friends at school and even possible members of The Swarm lay around every corner, keeping their true intentions in the shadows. The ending pulls the plot around with satisfying grace.
And here she is...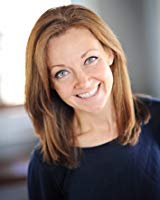 Kimberly Gabriel is and English teacher who writes every chance she gets and struggles with laundry avoidance issues. When she's not teaching or writing, she's enjoying life with her husband, her three beautiful children, and a seriously beautiful boxer in the northern suburbs of Chicago.
Connect with Kimberly