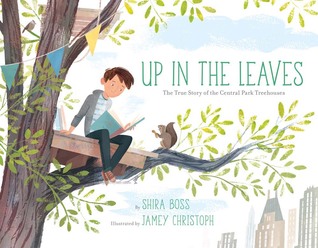 UP IN THE LEAVES
The True Story of the Central Park Treehouses
by Shira Boss
Illustrated by Jamey Christoph
Sterling Children's Books
Picture Book
ages 4 and up
"Bob lived in the big city. The city was very crowded ."

A true story about Bob Redman, a New York City boy who built a series of intricate treehouses hidden in Central Park.
This picture book tells the true story of Bob Redman, a child growing up in New York City. Tired of the noise, the people, and the rushing around, Bob took shelter in the natural beauty of Central Park—where he covertly built a series of treehouses, starting with a simple platform and growing more and more elaborate over time. He played cat-and-mouse with the park workers, who kept tearing down his houses, until he was finally caught. But his story ends with a happy surprise . . .
MY TIDBITS
This warming story grabs with a gentle adventure many kids enjoy, climbing trees, and shows the wondrous paths life can take.
This true story tells of Bob Redman, a kid in New York, who never felt at home between concrete, streets and buildings. Finding comfort and joy in climbing trees, he soon takes it a step further and begins to builds tree houses in Central Park. Each time, the tree houses are ripped down, but he builds again. His love for being in the trees continues for many years and blossoms into something much more.
I was personally touched by this story, since my own brother did much the same thing when we were growing up—almost the exact same thing. So, my kids and I might have a slightly different view on this book than many readers.
That this story stems from a true event, already draws in and adds a special dust of curiosity to young listeners. Bob's desire to climb trees is something easy to relate to, and that he does it in a park, adds to the excitement. There's a natural comfort and a sense of adventure as he climbs into the branches to hide away from the world time and again. Add the construction of tree houses from whatever he could find to the mix, and this is a real life adventure kids dream of doing themselves.
The illustrations come across as natural as the story, allowing the listener to sink into the scene. The tree houses add a touch of wonder and inspire listeners to imagine what their own house might look like.
The ending lacks the normal idea of goal chasing and determination, as Bob finds himself unsure of his future and slides into his future profession, which will hit some readers/listeners different than others.
And here they are. . .
The author. . .
Shira Boss
is a writer who lives on the Upper West side of Manhattan, three blocks from Central Park.
Up in the Leaves
is her second book. She earned undergraduate and graduate degrees from Columbia University, including a master's in Journalism. When her Japanese maple tree needed puning, several people suggested she call arborist Bob Redman. Now, they have tow sons, two whippets, and many more trees.
Connect with Shira at shiraboss.com
The Illustrator. . .
Jamey Christoph's illustrations have appeared in The New York Times, San Francisco Chronicle, and in several award-winning children's books, including Gordon Parks by Carole Boston Weatherford (Albert Whitman). He works out of his 1920s home in Cleveland Heights, OH, with his crazy dogs, Owen and Jack.