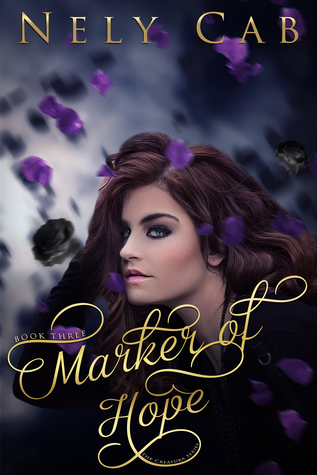 MARKER OF HOPE
The Creatura Series, Book Three
Who will save her from herself?
Upon her return from Greece with three new friends and a broken heart, Isis' hunger for human flesh is stronger than ever. She's a miserable mess after losing David following her betrayal. Her mutation into Creatura is all but over when she receives the surprise of her life, compelling her to seek out David's family. Only, they've broken all ties with her, and she doesn't know how to reach them.
Turpis, the demonic beings that attacked Isis in Greece, have tracked her whereabouts. Now, in order to fend for her life, Isis must join forces with deities she doesn't trust.
Is Isis truly the Marker of Hope as she's believed to be, or will she lose the battle to her starving inner beast and demons, obliterating humankind from existence? Find out in the epic finale of the best-selling CREATURA SERIES.
MY TIDBITS
First, I did not read the first two books in this series, but still, didn't find it hard to grab foot into the Creatura world. Of course, there's quite a bit of information concerning the plot and characters missing, but it's not difficult to reconstruct and fall into the story. Still, to get the whole experience, it would be better to start with book one.
This is a mixture of myth, demons and magic which sets in a very modern day world with characters, which feel as if they come from the 'every day' despite their powers.
Isis, the main character, is trying to find foothold after breaking up with the love of her life, David. But her pregnancy and recognition of who she really is, only cause her world to flip upside down. She not only has to figure out how to handle her private life but finds herself at the brink of a war with gods and demons.
I liked Isis from the very first page. She's level-headed, down to earth but still, unsure. Her decisions and feelings hit home, making her have the feel of a best friend. She takes things in stride and even when she loses her temper, tries her best to remain planted. She's a true heroine to cheer for as all sorts of troubles on different levels hit her.
This isn't the fastest paced novel, although it does move along steadily. The personal and emotional tension between the characters remains at center stage until the action hits more toward the end of the story. There are moments of imminent danger, but usually the true darkness lurks in the background as a constant reminder of what Isis might be up against. Isis is on a journey of self-discovery, and this is done masterfully.
The plot itself is layered, allowing unexpected twists, turns and intrigue, although it never really becomes overly complex. The ending wasn't as tense or complete as I like (but then, I am an action girl), but it pulls in the ends and ends the story nicely.
Summed up, this is an entertaining read which does have a kick-butt heroine, hot guys and tons of wars and creatures, but still centers around the character's personal development and does a lovely job with emotional depth.