Today's read isn't just a read, it's a picture book which accompanies a popular kids' song by the musician Greg Lato. I enjoyed flipping through books as I listened to the accompanying records when I was a kid (yeah, that exposes my age), and my own kids enjoyed listening to cassette tapes and doing the same (No, that doesn't make them ancient. In Germany, cassette tapes for kids was/is still a thing.)
Anyway, I also had the chance to ask him a few questions (inquiring minds want to know!) So, let's get this post going!s take a peek!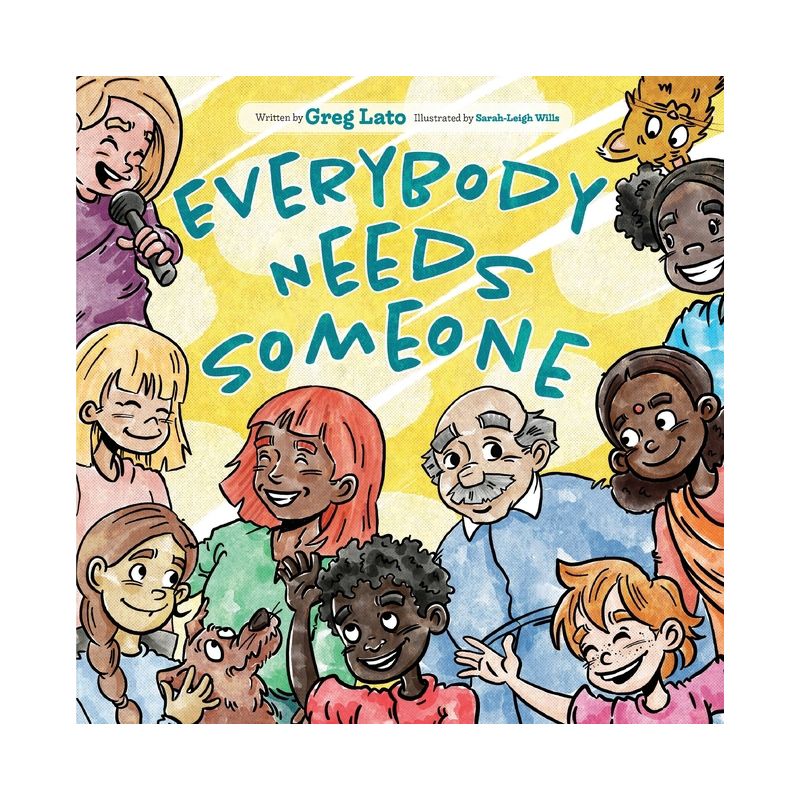 EVERYBODY NEEDS SOMEONE
by Greg Lato
Illustrated by Sarah-Leigh Wills
Picture Book
ages 4 to 8
34 pages
EVERYBODY NEEDS SOMEONE is a sing-along children's book from award winning singer/songwriter Greg Lato and was illustrated by Sarah Leigh-Wills. It's an inclusive ode to friendship, family, togetherness and belonging. It highlights the importance of having someone to celebrate the good times, comfort in more challenging times, and someone kids can trust to teach them valuable life skills and lessons.
The book also has a song to accompany it that is upbeat, heartwarming, and simply memorable! Kids will be singing along, and parents will be reminded of a sound that recalls the classic 70's AM Gold era!
Greg Lato has previously released 'Try', an inspirational sing-along children's book about not being afraid or discouraged to take a chance on anything you want to do. It includes the original title song with an uplifting, tropical vibe, and was described by the Warwick Beacon as "a motivational joy for both parents and kids".
Greg's first children's music album 'Create My Own World' featuring two-time Grammy award winning children's entertainer Bill Harley as special guest, has won a 2020 Creative Child Award and was a winner of a 2020 Family Choice Award. The album also reached the Top 15 on the iTunes Children's Music chart, was on the iTunes Children's Music Bestseller List, and the song 'I Like Sprinkles' is on the Kids Hits: 2020 Apple Music playlist. 'Create My Own World' presents a fun and inspiring soundscape in these challenging times through music as relatable to kids as it is nostalgic to parents. Greg has also composed music for film, TV, and other artists.
MY TIDBITS
Mixing music with words and illustrations, this is an uplifting book, which hits on several levels.
This book was inspired and is accompanied by the fitting song, Everybody Needs Someone. Young readers/listeners can follow the song's lyrics as they flip from one page to the next to the illustrations, which depict the meaning of the words. Each illustrations shows the various ways in which people help and support each other and reinforce the idea that everyone needs somebody else to get through life and make it worth living.
The text is simple enough and follows the lyrics of the song. This does make for a slightly odd read-aloud if the song isn't available or the readers haven't heard it before. But with the song (which accompanies this read), it makes for a valuable way to see the words, recognize them, and strengthen reading and understanding skills.
The illustrations are bright and carry an artistic flair, while depicting a wide diversity of individuals. Each one is inspiring and promotes positive interactions of support, help, care and warmth. These empathize the situations presented in the lyrics and help the reader/listener visualize each one to strengthen the meaning behind it. Plus, the situations are ones which many readers/listeners will recognize from their own lives and relate to.
Together with the music, this makes a nice read for the age group.
INTERVIEW
Greg was kind enough to take the time to answer a few questions (YAY!) So, without lots of introduction, here we go!
You are not only a kidlit author but even better known for your music for kids. What draws you to this audience?

My kids are definitely the inspiration and the reason why I made the switch to kids' music. I never in a million years would have thought that I could or would make this kind of music but I'm so glad I did. I'm having the most fun I've ever had making music, and I am at my most creative.
The reaction that I get from kids at my shows is amazing and so much more rewarding than ever before.
It's obvious you love what you do—how exciting to hear that! When writing music or books, do you have a broader theme in mind?
I always want to make music and books that a wide range of kids and parents can relate to. I start with that idea In mind and draw either from my experiences growing up or my kids. Usually when I start from a personal and real place, it is more relatable to other people.
That makes sense. Having your own kids will definitely keep those inspirations flowing...and probably more. What is your favorite part about creating? And what would you rather eat worms than do?
My favorite part about creating is first getting an initial melody that I'm excited about, and then going in the studio to build a whole song around that idea. The actual process is the most fun part for me, way before the finished product.
I would rather eat worms than crawl through or get trapped in a tight space!
Going into a studio to build out a song idea sounds like it would be amazing.
What were your favorite books and songs while growing up?
My favorite books from an early age were always music biographies and anything that included stats about music. I used to have a book in elementary school called Rock's Movers and Shakers that was a chronological account of an artist's career, and I would literally sit in my room for hours studying it. As far as music, I grew up in the '8os, so songs by Phil Collins, Hall and Oates, and Michael Jackson, to name a few, were the soundtrack to my childhood and even adulthood!
I'll admit I haven't heard of a kid that young reading those types of books before. Sounds like you have definitely found your calling. When you aren't writing or composing or playing or singing (whew, that already takes up time!), what do you like to do?
Yes it takes up a lot of my time! But I love spending time with my kids and family most of all!
What was your biggest wish as a child?
My biggest wish as a child was to be doing what I am doing right now. For as long as I can remember I have been writing song ideas, playing music and working towards being the type of artist I am today. It took me a long time to be able to do this professionally, and with the level of quality that I always aspired to reach. I am so grateful that I get to do this and make a difference in the lives of kids and parents all over the world!
And here he is...
Born and raised in Providence, Rhode Island, Greg Lato was surrounded by an encouraging Italian family that included his father, jazz sax player Vinny Lato, who owned an extensive vinyl collection that served as Greg's introduction to the world of music. At the age of eight, he started playing guitar and two years later began writing his own songs. Greg proceeded to develop instrumental chops on drums, bass guitar, and piano and took advantage of every performing opportunity that came his way.
Identifying as a songwriter, Greg went on to compose for film, TV, and other artists, most recently co-writing with The Voice runner-up Billy Gilman. Greg received two awards from the Billboard World Song Contest, had one of his music videos air on the FUSE channel, wrote a song for a film that went to #1 on the iTunes movie charts and spent 8 months in the Top 10, has written for network TV shows, has had his songs played in McDonalds, Subway, several department stores and Planet Fitness franchises, and co-wrote the Young Survivors theme song for the Gloria Gemma Breast Cancer Foundation.
Previous Greg Lato albums include Create My Own World (2020, with two-time Grammy winner Bill Harley as special guest; Parents' Choice Award, Creative Child Award, reached #15 on the iTunes children's albums chart), Cassetting Son (2018), Lato & The Nevers: Fire Between Us (2016), Do The Best With What I Got (2010), and Monday Morning Breakdown (2009).