It's Mommy & Daddy Evening here on Bookworm for Kids! The book I'm present today is the last in a series, THE DIVINE CITIES. The last? Well, yes. That's the one I got my hands on, but if the rest of the series is anything like this book (and I'm assuming it is), this is a must-read series. CITY OF MIRACLES is a fantasy set in an urban world and is for the adult audience. Mostly due to violence and theme.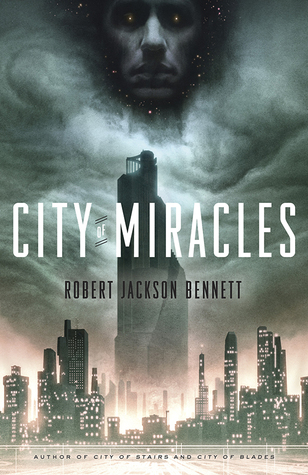 CITY OF MIRACLES
by Robert Jackson Bennett
Revenge. It's something Sigrud je Harkvaldsson is very, very good at. Maybe the only thing.
So when he learns that his oldest friend and ally, former Prime Minister Shara Komayd, has been assassinated, he knows exactly what to do and that no mortal force can stop him from meting out the suffering Shara's killers deserve.
Yet as Sigrud pursues his quarry with his customary terrifying efficiency, he begins to fear that this battle is an unwinnable one. Because discovering the truth behind Shara's death will require him to take up arms in a secret, decades-long war, face down an angry young god, and unravel the last mysteries of Bulikov, the city of miracles itself. And perhaps most daunting of all finally face the truth about his own cursed existence.
MY TIDBITS
This has action, revenge, mystery, suspense and even a few punches at the heart. In other words, it's a read that lingers long after the story's end.
Sigrud has been waiting for ten years, hiding until he gets word from his dearest friend, Shara Komayd. But news first comes when Shara is assassinated--something which seems impossible to Sigrud. Determined to revenge Shara's death, Sigrud travels where she was last seen, only to discover that it wasn't a simple assassination. Shara was secretly involved with a secret war, which has everything to do with Sigurd and Shara's own past. Sigrud no longer only needs revenge, he needs to defeat, rectify and save so much more.
This is the final book in The Divine Cities series. I did not read the first two books before grabbing up this one, but this didn't prove to be a problem. There is enough of a time break between the books and enough background information sprinkled in to dive right into the world and feel at home. Still, after reading this one, I would highly recommend hitting the rest of the series because this is definitely an amazing read, and I imagine the first two books are as well.
Gentle is not the word for this author's world. Life is reaching a state of equilibrium, on the surface, but the countries have been scarred from early battles with the Divine (something akin to gods). The people's fear and doubt hangs like a thick, constant fog no matter which character is introduced.
Sigurd, the main character, is as brutal, calculated, skilled and cold as they come. He kills without a flinch and has a past full of blood. But he's not evil. It's clear that whatever horrible things he's done, it's been in strife for a greater good, and it's this guilt and hope which make him likable. The reader is submerged in his thoughts and character, and it's easy to connect with him and cheer for him the whole way through. And he needs it because this book puts Sigurd on the limits in so many ways.
This book is fast paced and hits one edge-of-the-seat situation after the next. There are tons of secrets, dark ones, which aren't easy to guess or figure out, and all layers run deep. Bad and good mix masterfully, letting even the darkest evil have its glimpses which might earn some sort of sympathy. The fight scenes are well laid out and draw in without confusion, leaving the reader holding their breath. Even the ending, which comes full circle, leaves with the perfect ring of possibilities and what-ifs, insuring that it won't be forgotten soon.
Fans of fantasy, battle, fights with gods, and good versus evil will want to grab this one and dive into an amazing world.
I received this copy from
Blogging for Books
and loved every page.
And here he is. . .
ROBERT JACKSON BENNETT
was born in Baton Rouge, Louisiana, but grew up in Katy, Texas. He attended the University of Texas at Austin and, like a lot of its alumni, was unable to leave the charms of the city. He resides there currently with his wife and children.
http://www.penguinrandomhouse.com/authors/177470/robert-jackson-bennett/