Snuggling up with a gorgeous picture book is an extra special treat during the holidays...and this book promises to be perfect for that. While this is a children's picture book, I have no doubt adults will appreciate it just as much if not more. It takes the famous poem by Robert Frost and adds the gorgeous illustrations of PJ Lynch. So, I'm expecting the perfect winter wonderland to get lost in and enjoy.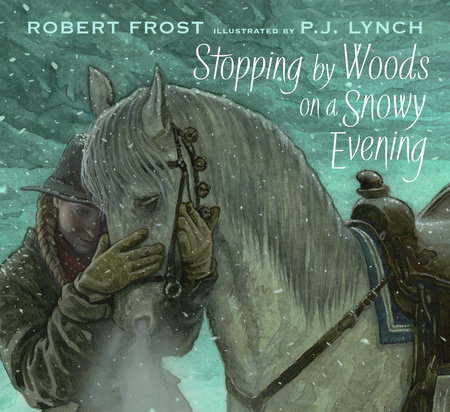 STOPPING BY WOODS ON A SNOWY EVENING
by Robert Frost
Illustrated by P.J. Lynch
Penguin Random House
Picture Book
32 pages
ages 4 to 8
Just in time for its centennial, Robert Frost's cherished poem is showcased in a beautiful keepsake edition illustrated by the award-winning P.J. Lynch.
The woods are lovely, dark and deep,
But I have promises to keep,
And miles to go before I sleep,
And miles to go before I sleep.
Whether memorized by schoolchildren or used to eulogize a president, "Stopping by Woods on a Snowy Evening," written in 1922 and published in 1923, has found a place as one of the best-loved and best-known American poems of the last hundred years. Now, six decades after the passing of its author, Robert Frost, celebrated artist P.J. Lynch brings this classic to new life with exquisitely detailed illustrations, evoking its iconic moments and wintry setting on the outskirts of a small village.
MY TIDBITS
Snowy landscapes embrace a well-known poem by Robert Frost to create a book to get lost in.
This read takes the poem by Frost and brings it across in a way young listeners can understand and enjoy. While the writing style of the poem itself is 'old fashioned' and would, normally, go over young listeners' heads, by breaking it down into a few lines here and there, it becomes digestible for the younger audience. But that, of course, isn't enough to bring it across correctly.
The illustrations are more than masterfully done and let the poem and its atmosphere come to life. Each scene is a piece of art and invites for gazing and getting lost in the wintery landscapes. It's a treat to flip through and discover, and while this won't be for every young reader, there will be many, who will enjoy a moment with this book on their own.
Plus, this read is a great way to introduce young readers to the world of poetry. The scenes do allow for discussions as to what is meant and happening. It's a nice addition for homeschoolers, classrooms, and simply a lovely addition to a private bookshelf.