After yesterday's picture book, we're moving up (age wise) in the world and visiting a graphic novel for chapter book readers. It's the first in a brand-new series and promises tons of humor with an awesome duck. I do love his sunglasses. It's not scheduled to come out until May 2023, and telling by the rope swing, that should be just in time to get readers excited about some summer fun.
Let's see what this duck is all about!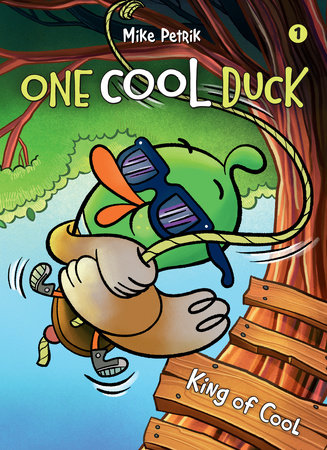 ONE COOL DUCK #1
King of Cool
by Mike Petrik
Hippo Park
Chapter Book / Graphic Novel
64 pages
ages 6 to 9
COMING...
MAY 9, 2023!!!
What's cool, anyway? Skateboards, pizza, arcade games—and being
kind! This buoyant young graphic chapter book introduces Duck and pals, kicking off a series that makes real-life friendship issues fun.
Duck is feeling pretty good about himself. He can flip on a skateboard, and he's a great friend, too. Then Cat comes along and seems so cool, with his high scores on video games—but Cat also does some mean stuff nobody likes! Then Cat gets caught up a tree and needs help. In three short chapters, perfect for readers just gaining confidence, Duck and his pals show Cat that being cool includes helping others and not dissing your friends.
Hippo Park graphic chapter books are ideal for beginning and newly independent readers, with approachable page counts, easy-to-follow paneling, and artwork that supports text comprehension.
KOBO:
https://www.kobo.com/us/en/ebook/one-cool-duck-1
B&N: https://www.barnesandnoble.com/w/one-cool-duck-1-mike-petrik/1141986944
TARGET: https://www.target.com/p/one-cool-duck-1-by-mike-petrik/-/A-87441660
MY TIDBITS
Cool vibes rule when it comes to this duck...and not only in his appearance, but there where it counts.
Duck embodies the meaning of cool from the moment he wakes up in the morning and all through the day. Together with his friends, the day is packed with fun and adventure...just the way a fun summer day should be. It's perfect as can be until a new cool kid shows up, Cat. While Cat seems to rank even higher than Duck on the cool scale, things take a surprising turn and the truth might not be what anyone expected.
The second I saw this fun duck on the cover, I was excited to dive in. Plus, the idea of a graphic novel geared for chapter book readers is simply wonderful. This duck didn't disappoint. The novel is relatively short at sixty pages, and exactly the length it needs to be to tell an exciting story without drawing out too long and loosing the interest of more reluctant readers. There isn't a whole lot of text as the illustrations carry most of the story, but there is enough to practice those reading skills. Mostly, it's fun and will hold readers' interest the entire way through.
Not only does the plot move right along, but the characters are a fun bunch. Duck is true to cool-form, and his friends are not far behind. They have an inspiring relationship, showing support and concern for one another. The entrance of Cat not only demonstrates how new friends can be brought into the mix, but shows what 'true cool' really is. It's a message about caring for others, learning that everyone has weaknesses, and forgiveness.
This is an entertaining start to what promises to be a fun series.