I received this book only this morning and not only just happened to be able to slide it in today (a super rarity!) but found it SO important and timely for not only kids in today's world. If only this were the message we heard much more often lately!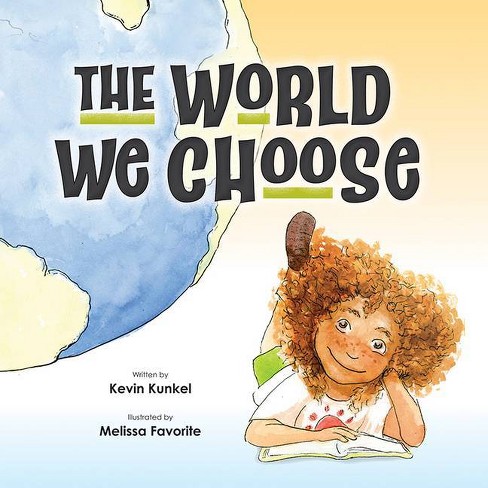 THE WORLD WE CHOOSE
by Kevin Kunkel
Illustrated by Melissa Favorite
Beaver's Pond Press
Picture Book
24 pages
ages 4 to 8
The world can feel dark at times. Cable news and social media sell us the dark stories every day. Here is the truth: the world is mostly improving! Less violence, more education, and inspiring new technology are just a few of the reasons to be optimistic about the future of the planet. The World We Choose" tells the positive story of humans on earth, and empowers children to see the good all around us. The choice is ours, let's choose a better world.
MY TIDBITS
Encouragement, inspiration, and positive vibes fill these pages and remind that life is full of hope and just as many good things (if not more) than bad.
The media and social platforms thrive on bad and shocking news, and lately, it seems to be all that's heard. Especially young listeners/readers not only start to see the world through darkened lenses, but can easily begin to fear life around them. And that's too bad because the world isn't only doom and gloom. This book brings out that message...and still, doesn't try to paint a perfect, rosy world, either.
There's a wonderful balance in these pages, while offering the glow of sunshine the entire way through. It covers many positive aspects of life including nature, doctors who heal, technology which allows us to talk and see relatives who are far away, and much more. The message holds clear: the world might not be perfect, but so many things have improved already and people keep working on making things better every day. It then throws out the thought that even the listener/reader can make the world a better place, too.
The illustrations are lovely and allow the positive vibes to come to life. The situations depicted are easy to identify and demonstrate a diversity of people working to improve the world every day. The text holds four lines on each page and is written in a cute, short rhyme. It flows nicely and is written in a way the age group can understand.
This book makes a lovely read-aloud and addresses current thoughts, while never forgetting that young readers need the warmth of hope and optimism in this world, too.