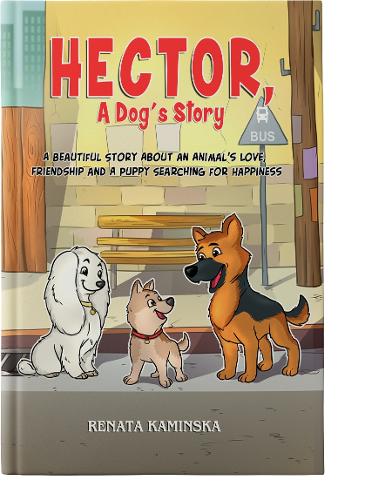 HECTOR, A DOG'S STORY
Children's Fiction
101 pages
ages 6 to 10
This is a story about growing up, true love, friendship, searching for a real home and safety through life's many stages, all set against the backdrop and grey of the Second World War. It is a story that proves that hope never dies and that for everyone there is happiness waiting. It explores which values should direct our lives – from the unique perspective of our beloved pets.
Maybe we are not as different as we thought?
Both children and young adults will enjoy reading the book Hector, A Dog's Story. It is a story for every dog lover out there!
The profits from the sale will go straight to foundations supporting our furry friends & children, so your contributions are going to a great cause.
Buy links:
MY TIDBITS
Hector is a dog to befriend, snuggle up with, and simply enjoy being around as he faces life and all of it's adventures.
This is a tale about a dog, Hector, as he navigates through life and learns about family, friendship and love. It's written with lots of heart and takes on normal problems, but always from the point of view of a canine. Right away, we meet Hector who was born to a very loving mother and a kind owner but soon finds himself on the way to a new family for various reasons. He must learn to not only settle into his new surroundings but deal with the adventures life throws at him.
Hector is easy to sympathize and connect with. He's a sweet dog with a big heart, who simply finds himself in some difficult circumstances. Young readers will have no trouble feeling for him and rooting for him. His uncertainties, worries and triumphs are ones kids will relate to in their own way and understand. The story flows relatively well, and there's always something happening to keep boredom away. But with so many lovely characters, Hector is a fun dog to join.
The wholesome story is just right for more sensitive readers and fits the lower middle grade range. The text, however, might still be a little challenging for some, but for those, this does make a lovely read aloud. This also opens up the chance to take a pause during the tale to discuss certain situations or offer explanations when necessary. There are several moments where it touches onto religious tones, and this does mix in well with the wholesome theme.
An extra bonus in these pages...as if the charity aspect isn't enough...are the illustrations. There are quite a few sprinkled in the pages—big, bright and bold. While it not only helps develop the scenes, it also gives readers a chance to pause. Especially more reluctant listeners will enjoy these.
And here she is...
Since the age of 12, Renata Kaminska dreamed of publishing her own novel to raise money for dog and children's charities. Her idea was to explore how the world, and our lives, would look through the perspective of a dog searching for a home against the backdrop of World War II. Renata has now realized her dream – she has written a beautiful story about love, friendship and a puppy named Hector searching for happiness.
Interview
Hector, A Dog's Story puts animals as the main characters in hope of allowing children to understand animals more. Since this could only come from somehow who has a deep respect and love for animals, I read that you've dreamed of helping especially dogs since you were twelve. Where did this wonderful idea come from?
A: As I was an only child, I often felt lonely and misunderstood by other children. Growing up, I often dreamt about having a puppy. When it finally became a reality, he made my life whole. In this creature, I found a true best friend who actually accompanied me through my teenage years and into adulthood. He offered me unconditional and pure love until the last days of his life. When I was twelve, the idea came to me that I would write a story about a puppy. My intention was to create a story that might be man's story as well.
You've also placed this book in the period surrounding WWII. Why? And how did you conduct your research?
A: My mother is a historian and political scientist. As a child, I came into contact with history almost every day. I was very interested in it myself, especially in the subject of World War II. I also watched a fairy tale about the von Trapp family then. Very popular at the time. The action takes place in Austria in the 1930s. This story inspired me. I decided to tell a similar story from the dog's perspective. However, the word war is never used in the book, nor is the word related to violence. After all, dogs don't know what war is.
What is your favorite part about writing? And what would you rather eat worms than do?
A: That's very difficult question to be honest to give just one answer. I love telling stories and share ideas. I truly believe that book can be very strong educational tools. Through my book I'm trying to make children 7 adult more aware of animal's feelings and create empathy. On the other hand I would like my book as door for opening dialogue between parents and children about difficult topic which very often aren't popular in children literacy. I ask a lot of questions about God, Death, loss etc. however I never give clear answer because there is no one good answer because of different background, culture, religion etc. Each parent can give child answer they believe on their own. That's why book and story become universal.
Many authors were avid readers during their childhood. What were your favorite books while growing up?
A: It sounds maybe strange but I was pretty serious child and really like a lot books based on true stories, especially when the main character was a child. On the other hand I loved fairy tale world of Christian Andersen. I think I don't have one particular favourite book however Little Prince has very special place in my heart and mentioned story of Singing Family Von Trapp.
What book are you reading right now?
A: Nowadays I like to read books related to psychology and motivational ones. They help me to better understand world and people. In the same time I love travel books which inspires me to not stop travelling and exploring the beauty of world,
When you aren't writing, what do you like to do?
A: There 2 things which I love the most and that makes me really happy: travelling & admiring nature. That's why in my free time I'm trying to organise trips (alone or in group) and do some hiking. I also love sport and yoga. Recently I also regularly meditate what I recommend to everyone.
What was your biggest wish as a child? (Apart from helping dogs)
A: The biggest one was to publish my book as you know however there was also a long list of other wishes. As a child I wanted to have my own business, fashion brand, beach restaurant with cultural activities and big happy family with who I will live in beautiful house next to beach & forest. I also wanted to travel around the world. These wishes are still on my list and looking forward to make them come true as well.