THE MOSTLY INVISIBLE BOY
Casey Grimes, Book One
by AJ Vanderhorst
INtense Publications
Middle Grade Fantasy
292 pages
ages 8 to 12
Eleven-year-old Casey Grimes is stubbornly friendly, but he's eternally the new kid at Vintage Woods Middle School. Students look right through him—and they're not faking. Casey doesn't know why he's mostly invisible, but when he scales a colossal oak, he discovers a fortress in its branches. The forgotten sentry tree marks the border between his safe, suburban life and a fierce frontier.
Casey and his little sister Gloria infiltrate Sylvan Woods, a secret forest society devoted to ancient, wild things. Sky-high footpaths. Survival sewing.

Monster control.

Shockingly, people here actually see Casey—but being seen isn't enough. He wants to belong. Posing as a Sylvan girl's cousins, he and Gloria enter Trickery School—an academy where classes have surprise endings, battles are as common as breakfast, and magic is

so

last century. For the first time in his life, Casey makes friends…but kids at Trickery have lost touch with the people they're sworn to defend. If anyone finds out he's an imposter, he'll be blacklisted for life—or worse, thrown in the sewers with the tiger rats.
Keeping his identity hidden—while struggling to prove he fits—is hard enough, but butcher beasts have returned to Sylvan Woods after a hundred years. Trickery is under siege. As the monsters close in, and the fearsome Sylvan Watch hunts Casey down, he and his newfound friends must unearth abandoned magic, buried at the forest's roots…or be devoured along with everyone else, Sylvans and civilians alike.
MY TIDBITS
Packed with imagination and magical adventure, this is a book to cuddle up with under the blankets and get lost in an exciting world.
Casey is eleven-years-old, would love to have some friends, but has a very strange problem. He's almost always invisible. At home, he's completely visible. When his parents win a sudden trip, he takes off into the forest to climb a tree, and what an odd tree it is! But other strange things are popping up, too. The babysitter isn't all that she seems, monsters are suddenly lurking in the forest shadows and a strange girl from another world speaks to him in his head. Soon, he finds himself in a magical world with dangerous monsters and an even more threatening war. There might be a way to save everyone, but only if he and his friends aren't captured first.
This is such a fun, exciting read. While it starts out with a very strange surmise, Casey's invisibility is only the beginning of the imagination in these pages. The author has understood what a thrilling adventure for kids should look like and created a very rich and enticing world. It starts out with something most kids love to do (or dream of)—climbing trees. But already here, things take off in wondrous directions as Casey discovers the most amazing platform with tons of secret closets...in the tree. The magic expands from there as another world opens up and the danger comes right along with it.
Many kids will understand how it is to feel invisible, sometimes, and what it's like not to be understood or accepted. Casey not only has problems at school and with his parents, but even in the magical world, isn't greeted with open arms. And yet, he stumbles on the magic of friendship and there's even the warming relationship of sisterly/brotherly love. He learns to trust himself and step past his own comfort zone. In other words, Casey is a character who is easy to relate to.
Not only was the imagination and fantasy in this book a real treat, but the author never talks down to the reader. This tale allows Casey to head into a true adventure, where the stakes are high, the danger real, and his goal is almost impossible to reach. It's the kind of read which will keep kids on the edge of their seat and dream of battling monsters and saving the world themselves.
And here he is...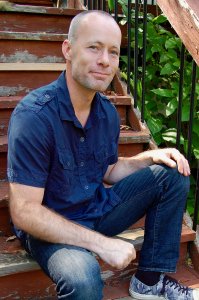 AJ and his wife live in a woodsy house with their proteges and a ridiculous number of pets, including a turtle with a taste for human toes. This makes AJ an expert on wild, dangerous things—invisibility spells, butcher beasts, hungry kids, you get the idea. Visit him online at ajvanderhorst.com.