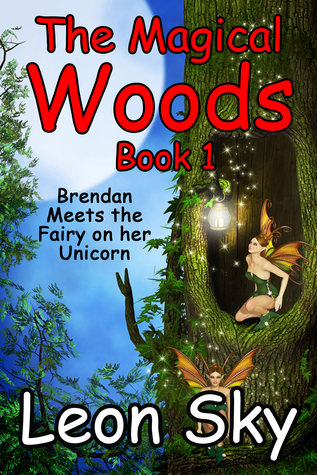 THE MAGICAL WOODS
Brendan Meets the Fairy on her Unicorn
Book One
by Leon Sky
Children Fantasy
14 pages
In Book 1 of 'The Magical Woods' series, brilliant new Children's author, Leon Sky introduces us to the imaginative world of Brendan and his Grandma, and also to the Magical Woods, where he discovers a Fairy and a Unicorn. What special request will the Fairy ask of Brendan and what is the secret that the Fairy will share with him in return? This heart-warming story concludes with an unexpected twist.
MY TIDBITS
This is the first book in a series, which is a continuous story about Brendan and his adventures with creatures who only appear in fairy tales. In the beginning, the author states the importance of reading a little bit every day and how beneficial and important this especially is for young listeners. This book goes on that principle and offers a short tale to begin the journey.
Brendan is an average kid, who wants to explore outside. While walking between the trees, he discovers the last thing he expected to see.
The writing is great for kids and easy to understand. Descriptions are kept to a minimum, allowing the adventure to move along at a nice pace. There aren't any illustrations, which is too bad but if this is read aloud as a good night tale, that isn't necessarily a problem. The characters are sweet and the happenings come right out of the imagination, letting kids embark on a promising journey. The biggest critique I have is simply the length--it's a bit too short and feels more like a chapter than a book.
Still, it's a good idea and the beginning to a cute adventure.
And here he is. . .
Exciting children's author, Leon Sky, has had the experience of living in many different countries and cultures. His adventures in the Amazon rainforest, Australasia, Oceania, Europe the Caribbean and the Arctic Circle have allowed insightful and symbolic treasures to be present in the tales he relates, the significances of which are waiting to be revealed to the reader. Leon writes non-fiction as well as fiction and spends his time enjoying walking in nature, breathing fresh air, the company of friends and puppies.
http://leonskybooks.weebly.com