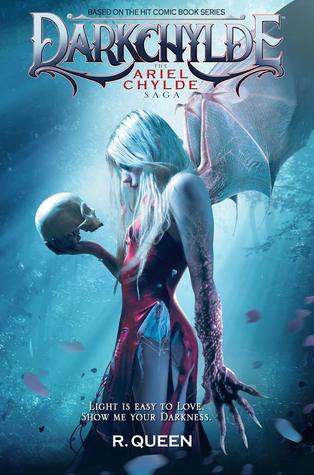 DARKCHYLDE
The Ariel Chylde Saga
by R. Queen
Curiosity Quills Press
YA Fantasy
Ariel Chylde is haunted by horrible dreams, and on her eighteenth birthday sheds her skin as the nightmares emerge to act out her deepest, darkest impulses.
But before Ariel can save her small town from the terror of her dreams,
she must first save herself from the sinister secret of her subconscious.
A secret guarded by unspeakable evil.
MY TIDBITS
Darkness and nightmares interweave with lyrical beauty to form a story where the action never ceases and the secrets grow deeper with every turn of a page.
Ariel is a strange egg, and mentally imbalanced--at least, that's what everyone thinks. The death of her mother years before has left her a victim to her own horrendous nightmares. But when these nightmares become reality and darkness reaches past her dreams, the entire world teeters on the brink of disaster.
This is said to be written as an inspiration from a comic series, but I've not read this series, so I entered this book with absolutely no previously formed expectations. This story is dark, as sinister as the cover suggests. And yet the writing is beautiful with descriptions so vivid that every scene comes to detailed life. The author does a fantastic job of letting the reader get lost in the world, one with very gruesome tones.
One thing the plot doesn't do is sit still. The story moves at a quick pace, never pausing for a single breath. Each phrase has meaning, which doesn't allow for a light-skimming read. There's a lot going on as well. The chapters shift not only between characters but also glide from reality into the world of dreams. Sometimes I did have to go back and read a few paragraphs again to make sure things didn't grow confused. Each scene has it's own depth, each character their own past and story, and it's easy to lose something in the race. But it's exactly this furious frenzy which the entire plot feeds upon. The darkness brings chaos, and it comes to life the whole way through.
The romance is odd, but then so are the characters. And together, it fits nicely in its own weird way. But both are still easy to feel for and cheer for the entire way through. And they have a lot to go through in so many ways. There's insanity and madness, and all of it comes together in an oddly lovely way to match up against the even more insane evil creatures.
In other words, this is a great read for those who enjoy dark reads with an amazing visual aspect , which is guaranteed to send chills coasting down the spine. There's blood, gore and death, but also a tiny beam of demented light. Horror, fantasy and comic fans are sure to get their thrill.