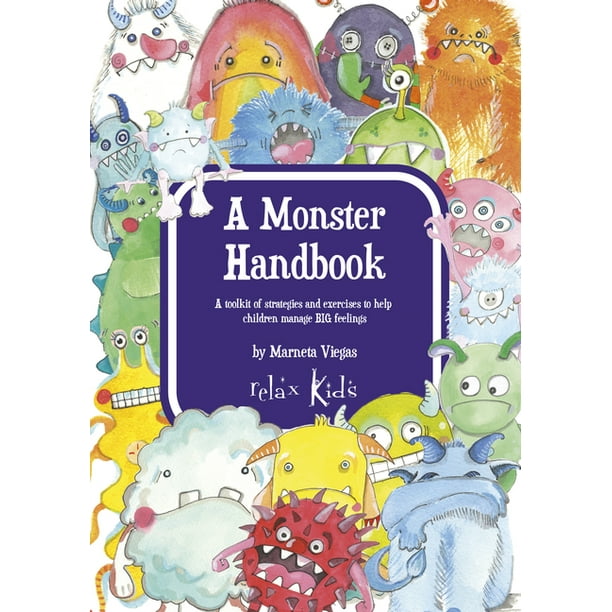 A MONSTER HANDBOOK
A Toolkit of Strategies and Exercises to Help Children Manage BIG Feelings
Relax Kids
by Marneta Viegas
Illustrations by Nicola Wyldbore-Smith and Sarah Adams
Design by Amber Sutton
John Hunt Publishing
Children's Self-Help
ages 4 to 8
Relax Kids helps children manage their monsters of anxiety and worry, deal with the dragons of anger and stress, and make friends with their gremlins of grief and sadness.
MY TIDBITS
Monsters of emotion pack these pages to create tons of fun, while bringing across useful hints to deal with the sneaky critters, when they start getting carried away.
I'm very critical when it comes to self-help books and kids. So, I picked this one up with caution but did find the monsters a cute idea...at least, enough to keep an open mind. While this book can be given directly to a child for use, it must be one who has has no trouble reading blocks of text. But that's fine because this is mostly intended for parents/caretakers to guide children through...although it does stay very directed at the younger listener/reader.
There are forewords and extras at the end to help assist parents/caregivers not only with these pages but guide them to other helpful resources and beyond. The book is divided into chapters and glides through various, more negative emotions. Each one has a fitting monster, shortly describes the feeling/monster, has the reader draw or write about the monster, offers helpful hints to notice when the monster approaches and how to calm it down, and even has statements from other children and adults, which tell how they deal with their monster. As an extra bonus, there are monster cards to cut out, cards with inspiring words to put in the pocket, and a few fun exercises like mazes and such, which actually also gently teach breathing skills. So, this is a packed book from beginning to end.
Of course, parents and caregivers should read this themselves before doing it with the child, but I was surprised how well it approaches the young readers. This is written at a level for the intended audience, never speaks down to them, and actually is engaging and interesting to read. The monsters are treated as real creatures (with imagination, of course) and keeps everything at a young level. The hints are do-able, and the games make them fun. It's almost never preachy but offers suggestions, while realizing that not everything works for everybody.
The illustrations pop from every page. Not only are the monster super fun to meet and well-done, but everything holds such a busy atmosphere, that it never, ever, ever steers even close to boring. Colors are bold and without pardon, but monsters aren't exactly calm creatures, either.
I'm giving this one a thumbs up, since it is fun to read through and do, while offering tips which help but don't overwhelm.
And here she is...
Marneta Viegas is founder of Relax Kids Ltd - the UK's leading expert on children's relaxation. She is author of 1- books and has produced a range of relaxation CDs and has appeared on BBC Dragons' Den. Marneta has over 40 years' experience in meditation and relaxation and runs a training program where she has trained over 5,000 franchisees in her unique award-winning method of relaxation. She lives in Oxford, UK, with her dog Ronnie Barker. For more information on Marneta and other Relax Kids products visit: www.relaxkids.com