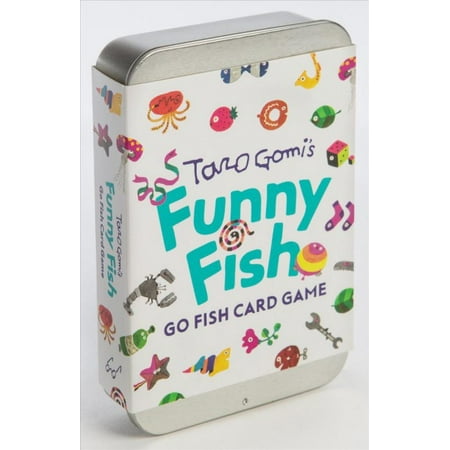 FUNNY FISH
Go Fish with Taro Gomi! The classic game of Go Fish gets the Taro Gomi treatment in this easy-to-play, undersea-themed extravaganza. Players of all ages will delight in the bright, colorful sea creatures and distinctively unique fish, from the Sea Sweeper to the Shooting Starfish, as they compete to collect the most pairs possible. Featuring Taro Gomi's signature bold and beautiful illustrations and presented in a giftable, screen-printed tin package, this card game of quirky and compelling creatures will quickly become a family favorite.
And available at many other retailers!
MY TIDBITS
Simple to play, easy to handle and fun 'fish' on every card—a great mix!
This is a deck of cards specifically created to play the classic and much loved game, Go Fish. Packed in a sturdy, metal tin with a sliding lid, this deck already beckons to quality fun. The cards fit nicely inside, which guarantees easy and robust storage. Plus, the container guards against thumps, bumps, squishes and bangs, which makes them travel friendly.
While Go Fish is always a fun game, which can be played by a vast age range, these cards carry a wonderful twist of humor with them. Each pair of cards portrays a 'fish', and just not any fish. Everything from Sea Sweepers to Mushroom Fish to Ribbon Eels and Wrench Sharks are found in the deck. The objects are clearly identifiable and yet have eyes to make them fish-like. The humorous twist is more than obvious, drawing more than a couple of smiles and giggles. Everyone is sure to find their favorite, too.
The fanciful sea life portrayed on each card also makes it simple to play. None of the fish can be mistaken for something else, making it easy to spot pairs. A clear, colorful name is printed at the bottom of each card to help with identification. But thanks to the familiar and easy identifiable objects in the illustrations, young players also practice a little reading along the way. The backs of the cards also make them simple to identify if they should accidentally get mixed in with some other card deck...because that does happen from time to time.
Summed up, this is a deck young (and older) players are sure to enjoy.
And here he is...
Taro Gomi is a beloved author and illustrator who has created more than 400 books for readers of all ages, including
Bus Stops
,
My Friends
,
Spring Is Here
, as well as Junior Library Guild selections I Know Numbers! and
The Crocodile and the Dentist
, and the award-winning Over the Ocean. He lives in Tokyo, Japan.