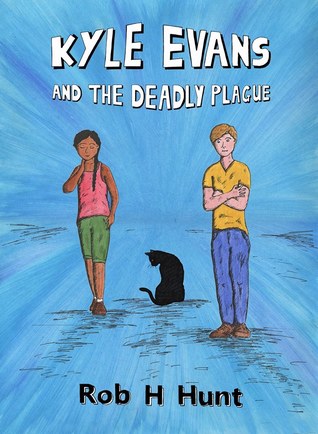 KYLE EVANS AND THE DEADLY PLAGUE
Volume Two
by Rob H. Hunt
Illustrated by James Chapman
Middle Grade Science Fiction
ages 8 to 12
152 pages
After narrowly escaping from an alien zoo, Kyle is looking forward to a normal life once again. Unfortunately for him and his best friend Sofia, his troubles have only just begun. A blue dot that suddenly appears on his elbow signals the beginning of another crazy adventure featuring hungry Gomes, sneaky Pliskins, the mysterious Azda Fains and, of course, the cat who is not a cat – Bootles. Kyle Evans and the Deadly Plague is the second installment in the exciting Kyle Evans trilogy.
MY TIDBITS
With a galactic sweep, this book shoots off to alien planets, where danger lurks around every corner and strange (and at times, somewhat quirky) creatures hide in wait.
Kyle has a blue spot on his elbow, one that refuses to go away. It appears to be growing too, not that he's worried about it. When Bootles--Kyle's 'pet' cat who happens to be a pretty clever alien--notices the spot, the action begins. To save himself and his best friend Sofia, Kyle must follow Bootles across the galaxy.
This is the second book in the Kyle Evan series and even more fun to read than the first. Although I'd recommend reading the first book before jumping into this one, it's not completely necessary. Some background from the characters will be missing, but it's not too difficult to jump into the adventure without this.
This book is simply a ton of spacey fun. Bootles is a cat to adore. He's highly intelligent, a bit arrogant, sometimes snippy but still, a cat to cuddle...something he's sure to hate. Bootles couldn't have chosen a better 'owner' than Kyle. The boy is as normal as can be, but he's open minded and trusts Bootles no matter how sticky the situation gets. Kyle also acts as the perfect balance to keep Bootles big ego in check. In other words, the two make a great duo.
The imagination in this books explodes, diving into worlds and creatures which find themselves somewhere between creepy and quirky and oddly cute. There's one dangerous situation after another, but not without just the right amount of humor thrown in. Nothing is at it seems, and it's impossible to guess what will happen next. Because aliens are anything but predictable.
With only around 150 pages, this is a quick, easy read and perfect for the more reluctant bookworm crowd. It's an adventure easy to get lost in and doesn't risk falling into boredom for even a single page. The ending is packed with surprises, although it does leave off as a cliff-hanger.
Summed up, this is a great read for kids ages 8 to 12. Packed with adventure, imaginative worlds and fun creatures, any fantasy-scifi fans are sure to get lost in the pages and will look forward to reading more.
And here he is. . .
Rob H Hunt is a children's author who loves writing about regular, everyday kids who find themselves in extraordinary situations. His published books include Flicker, Kyle Evans and the Key to the Universe and Kyle Evans and the Deadly Plague. His next book, The Alexa Hill Chronicles, will be available in spring 2017.
When he isn't writing, Rob travels across the US talking with kids, teens and adults about their media habits. Rob lives with his wife, three children and one goldfish in Connecticut.
If you would like more news and information about Rob or his books, you can follow him via:
His website:
http://robhhunt.com/
Email: RobHHunt@gmail.com
Instagram/Twitter: @RobHHunt