The second I saw the sewing machine, this read caught my interest. Sewing and designing clothes was a hobby I picked up at age 12 (the hand-me-downs I received from my cousins were over seven years out of style and needed refreshing and changing before I dared to wear them to high school). And it's a hobby which never really disappeared, although some years I've sewn more than others. My children not only learned sewing basics, but have each received their own machines...yep, even my boys...so they can do their own magic. From Halloween costumes to carrying pouches to even simple outfits, they've discovered how useful the skill can be.
So, this book already had plus points before I opened the first page. Now, let's see if it continued to hold those good vibes or not. Oh, and it appears end of March on the shelves!
DADDY DRESSED ME
by Michael Gardner &
Ava Gardner
Illustrated by Nadia Fisher
Aladdin
Picture Book
48 pages
ages 8 to 12
COMING...
MARCH 28th!!!
Celebrate the creative and empowering bond between a father and his daughter in this picture book from the real-life creators of the blog Daddy Dressed Me following a single dad's sewing journey as he makes clothes to inspire his daughter.
It's Move Up Day for Ava and her kindergarten class, and Ava is chosen to recite a poem! She worries about remembering the words, but her daddy reassures her he will help her practice until she's confident. But Daddy struggles with self-doubt himself when he decides to sew Ava a new dress for the occasion but isn't sure he knows the stitches and techniques to make her a one-of-a-kind creation.
Word by word and stitch by stitch, father and daughter work together, helping each other stand tall, proud, and confident, wrapped in love.
MY TIDBITS
An inspiring father-daughter relationship beams from every page and leaves the reader with a sense of warmth and happiness.
Ava finds her dad amazing. Not only can he cook, paint, and take care of her, he even designs and sews dresses for her. When the teacher announces at school that Ava is to recite a poem on a stage for their festival, she's grows very nervous and uncertain. But her father knows just what might help her out.
This is a brightly illustrated book, which centers around a wonderful father and his inspiring relationship with his daughter. The scenes pop with color and invite in as the reader accompanies Ava and learns how she deals with her nervousness thanks to her father's help. The story flows smoothly, keeps the plot running along, and does make a nice read aloud.
It was nice to see a father spotlighted in the 'do-all' category and wholesome to experience how much he treasures his daughter. Ava also realizes this and works together with him, when needed. So, it's a heart-warming read. There's also the edition of sewing—producing a design, shopping for cloth, and so on—which adds an original and lovely touch of information. Then, there are the important messages about working through nervousness, having determination, and maintaining patience when things don't work out right away. I would have liked to see this one more centered on Ava then the father, but this is me being overly critical. It's a sweet read, which inspires and leaves a smile on the face.
And here they are...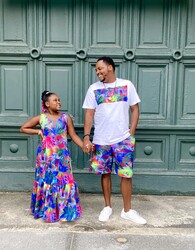 Michael Gardner
is the creator of
Daddy Dressed Me
, a fashion content blog featuring designs by the thirty-seven-year-old father and modeled by his ten-year-old daughter, Ava. Gardner started creating designs for Ava when she was just three years old, refashioning thrifted women's clothing. He was looking for a new way to strengthen his relationship with his daughter and, after seeing his sister sew, decided to pick up the hobby. They live in Philadelphia.
Ava Giselle Gardner is an ambitious, confident, and thoughtful young lady. She enjoys learning, dancing, coloring, and spending quality time with family. The epitome of a princess, she loves pink, getting manicures and pedicures, wearing colorful accessories, and modeling her dad's unique creations.