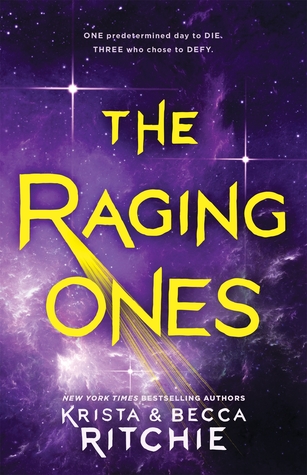 THE RAGING ONES
The Raging Ones, Book One
by Krista and Becca Ritchie
In a freezing world, where everyone knows the day they will die, three teens break all odds.
Franny Bluecastle, a tough city teen, dreams of dying in opulence, to see wealth she's never known. Like the entire world, she believes it's impossible to dodge a deathday.
Until the day she does.
Court Icecastle knows wealth. He also knows pain. Spending five years in Vorkter Prison, a fortress of ice and suffering, he dreams of life beyond the people that haunt him and the world that imprisoned him.
Mykal Kickfall fights for those he loves. The rugged Hinterlander shares a frustrating yet unbreakable connection with Court—which only grows more lawless and chaotic as their senses and emotions connect with Franny.
With the threat of people learning they've dodged their deathdays, they must flee their planet to survive. But to do so, all three will have to hide their shared bond as they vie for a highly sought after spot in the newest mission to space. Against thousands of people far smarter, who'll live longer, and never fear death the way that they do.
MY TIDBITS
Exciting doesn't even start to describe the adventure in these pages.
Franny has it all worked out—her death day. Every one knows when their death will occur. It's as natural as the stars in the sky, and calculated into life with much awareness and care. There are three types of classes of deaths—those who have very short lives, medium lives and the few who are graced with a long life. Franny belongs to the second of these, has lived her life to the fullest and embraces her upcoming peace. Except, she doesn't die. And that throws everything in life into an expected chaos and adventure.
This is one of those books which grabs and doesn't let go. There are three main characters and three points of view—Franny, Court and Mykal. While Court and Mykal have known each other for several years, Franny is new to the mix and is the one who allows the reader to seep into the adventure with her. Each character has their kinks but each one is a gem in their own right. The bond they share is inspiring, makes them all easy to cheer for, and sets the stage for an exciting series.
The reader follows the trio as they try to reach their goal to become one of the few members of the planet who will be allowed to venture off into space on a mission. The planet is similar enough to modern day Earth to make it easy to settle into the scenes. While the first part of the book allows the circumstances surrounding the trio and their daily lives to sink in, the second part concentrates on the competition as the each try to become part of the ending crew. In this second half, more characters are introduced, which not only add new angles but also offer hints at the adventures to come.
The author has a wonderful balance of present and past, allowing the characters to reveal their pasts slowly and exactly then when it's needed. This approach adds to the layers, especially when new surprising twists trickle in later in the book. There is also a nod at LGBT themes, however, this is only subtle and its unsure where this will lead later on. Only the ending surprised with a twist which definitely wasn't easy to see coming and adds an entirely new dimension to what the next books will hold.
And here they are...
Krista & Becca Ritchie
are New York Times Bestselling Authors and identical twins, one a science nerd, the other a comic book geek. With their shared passion for writing, they combined their mental powers as kids and have never stopped telling stories. Graduates from the University of Georgia in Biology and English & Journalism, the twin writing duo now lives in Atlanta. The Raging Ones is their first young adult novel.