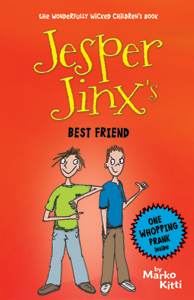 JESPER JINX'S BEST FRIEND
Jesper Jinx is eleven, and probably the unluckiest person in all of Puffington Hill. Everything he touches seems to end up in sweet disaster. Hence his nickname 'Jinx'.
Every great hero needs a sidekick who's ready to laugh at their silly antics. And Oliver has been just that for Jesper on countless pranks since the day they were born. But now Jesper's sister Melinda has set her sights on Oliver and even worse, he doesn't seem to mind.
Add to this horrible dilemma the fact that there is a heatwave in Puffington Hill. The air is now so hot that birds are falling from the trees and grandpas and grandmas are forced to wear bikinis. It all adds up to sweet disaster for Jesper.
How far is he willing to go to save his friendship with Oliver?
MY TIDBITS
And here he is. . .
Marko Kitti is a Finnish writer.
Find more about Marko's children's book series, Jesper Jinx, at
www.jesperjinx.co.uk
Marko's Finnish publications include two collections of short stories, two novels for adult readers and one novel for young adult readers. His Finnish novel
Meidän maailma
(Our World) was shortlisted for the Runeberg Prize in 2009.