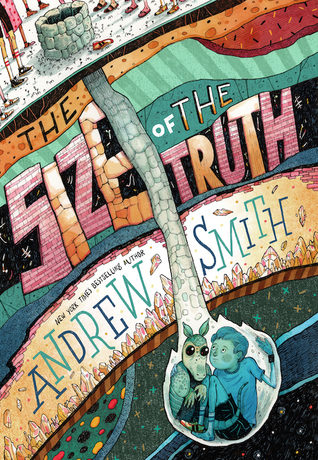 THE SIZE OF THE TRUTH
Middle Grade Contemporary
A boy who spent three days trapped in a well tries to overcome his PTSD and claustrophobia so he can fulfill his dream of becoming a famous chef in this charming novel that is Andrew Smith's first foray into middle grade storytelling.
When he was four years old, Sam Abernathy was trapped at the bottom of a well for three days, where he was teased by a smart-aleck armadillo named Bartleby. Since then, his parents plan every move he makes.
But Sam doesn't like their plans. He doesn't want to go to MIT. And he doesn't want to skip two grades, being stuck in the eighth grade as an eleven-year-old with James Jenkins, the boy he's
sure
pushed him into the well in the first place. He wants to be a chef. And he's going to start by entering the first annual Blue Creek Days Colonel Jenkins Macaroni and Cheese Cook-Off.
That is, if he can survive eighth grade, and figure out the size of the truth that has slipped Sam's memory for seven years.
MY TIDBITS
With a interesting mix between humor, imagination, and the harshness of fitting in, this is a read to surprise in so many ways.
Sam is sort of stuck in life, much in the same way he was once stuck in a well...but different too. His parents have everything planned out for him; he's going to MIT. They've even made sure he took the tests to skip from the 6th grade to the 8th. Sam, however, loves to cook and is really good at it. Someday, he wants to become a great chef, and that doesn't include the things his father likes to cook on their strange, annual survival outings. Someone once saved him from the well but he'll have to find his own way out of this hole.
This was not the read I expected it to be. Rather than following a more serious tone, it dances along an intriguing mix of quirkiness, bitter-sweet imagination and more serious battles of a middle grade kid. It makes for a quick read, which leaves smiles while still keeping the cloud of Sam's struggles hanging like a constant reminder. And it's this strange humor which makes it more appealing to reluctant readers.
Sam's story doesn't follow a normal timeline, but rather switches between his current life and memories of the hole. But the author does a good job at keeping it clear, which scene is which. This keeps confusion at bay. The author also does a wonderful job at bringing across the school scenes, by centering more on certain characters rather than the school classroom. This makes for a very personal touch which gives realistic depth, and makes the characters easy to relate to and understand. And especially considering Sam's strange life (thanks mostly to his father), this is exactly what the reader needs to pull the story down to a more normal level.
While the symbolism and bringing in of the well experience is a masterful weave along with the message of the book, it created a slightly strange atmosphere. Sam's memories of the well include a talking armadillo and takes on a bit of a hallucinating atmosphere...which could very well fit the situation. The armadillo, however, carries more mature jokes and actions with him, which wouldn't fit the imagination of a four-year old. But then, Sam doesn't behave like a four-year-old in those scenes completely either. Even Sam's father behaves in odd ways, especially the survival trips demonstrated a lack of knowledge on the father's part and, on top of that, a lack of concern for his son's safety. While funny, both of these left an odd twist which simply didn't sit quite right with me.
This is, however, an interesting read which brings across Sam's struggles in a humorous and meaningful way. Readers of the age group will relate to him much of the time and find moments to laugh as well. While it might not be a read for everyone, it will be enjoyed by the right audience.