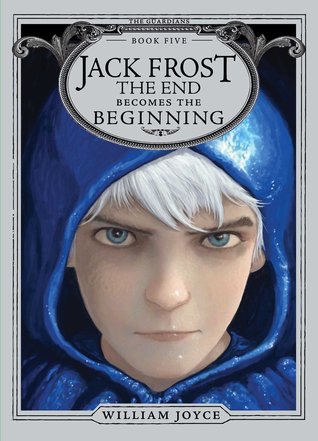 JACK FROST
The End Becomes the Beginning
The Guardians' powers are given the ultimate test as they journey to the moon itself in this fifth and final chapter book adventure of an epic series from William Joyce.
The Guardians came together to protect the childhoods of all who dream, and they are a formidable team: Nicholas St. North, E. Aster Bunnymund, Toothiana, the Sandman, Nightlight, and Katherine have thus far prevented Pitch from fulfilling his nightmarish plans.
But Pitch and his nightmare men lurk on the fringes, gathering strength, stewing in hate, and the Guardians know their guard needs one more member if they are going to vanquish Pitch for all eternity. And once they find the last in their band, they'll travel to the secret realm of the Man in the Moon, encounter armies of Moonbots, and face the greatest battle since the Golden Age; and that is just the beginning of this grand conclusion to a series most grand.
MY TIDBITS
Imagination, adventure and everything dreams are made of make this a fantastic tale to read again and again.
The Guardians have been able to keep the evil Pitch at bay, but not defeated him completely. Jack Frost is probably suffering more than the other Guardians as he tries to come to terms with his new identity as half-human and only half of what he once was, Nightlight. Still, the battle is not yet done as Pitch threatens with his plans again. To stop him, Jack and the Guardians head to the moon for the help of one more being. But the trip and defeating Pitch will not be an easy thing.
I did not read the other books in this series—a mistake. I would highly recommend reading this as a series.
What a fantastic tale! The author unleashes the world of fantasy in an exciting and vibrant tale. Every page offers something new, making it a read not easy to put down. The story twists and turns, not only with unexpected moments and characters, but even Jack incorporates a story within himself. Jack is a character to love and inspires. It's easy to root for him...along with the other Guardians...the whole way through.
The author has created a rich world, which is a treat to sink into. The characters have very distinct, fun personalities and give the story the perfect zest at the perfect time. There are sure to be a few favorites, and ones to hate as well. Mix this with the fantastical creatures, which really seem to stomp out of a dream, and it's a fantasy to fall in love with.
Illustrations dabble the pages and simply add to the excitement. I enjoyed simply flipping through and gazing at them. Not only do they help keep the read exciting even for more reluctant readers, but they add even more life to the story. But then, I'm an illustration fan.
Summed up, this is a great read and will make fantasy fans' hearts beat faster.
And here he is...
William Joyce
does a lot of stuff but children's books are his true bailiwick (
The Numberlys, Rolie Polie Olie, Dinosaur Bob, George Shrinks
, and the #1 New York Times bestselling
The Fantastic Flying Books of Mr. Morris Lessmore
, which is also his Academy Award-winning short film, to name a few). He lives in Shreveport, Louisiana. Talk to William Joyce and look at upcoming work at @HeyBillJoyce on Twitter and Instagram.