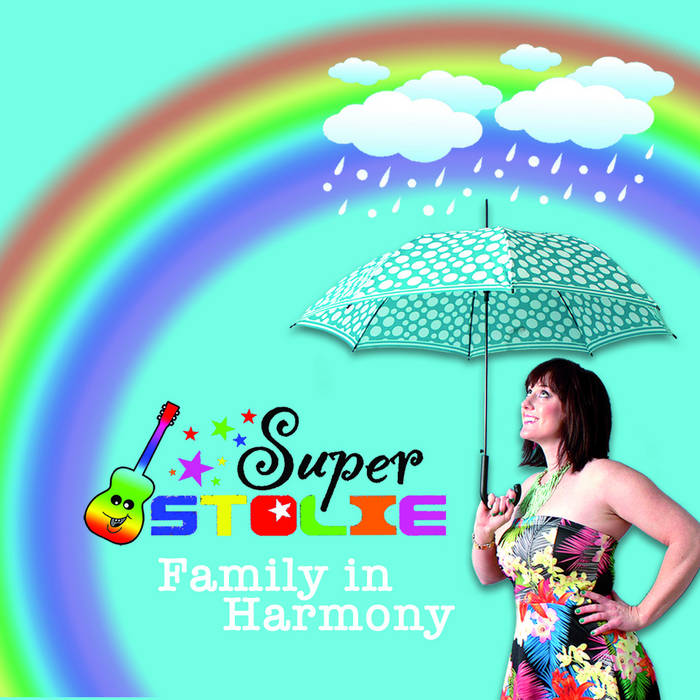 FAMILY IN HARMONY
by Super Stolie
Songs with Lyrics
ages 3 and up
Release in August 2015, Super Stolie's music album, Family in Harmony, visualizes the world through the eyes of a dreamer, embracing the beauty, rhythm and harmony that colors everything we see and do...
The 8.5-inch square, soft-covered book is a redesign of the original CD lyric book, offering a read-along, sing-along book for early readers to follow along while listening to the music. (Music not included.)
With an intentional literary focus in the songs' compositions, the collection highlights healthy concepts while encouraging proper pronunciation and articulation with a heavy lean on language, alliteration, poetry and rhyme.
With all the words to the songs, fun facts, spelling bee challenges and definitions, questions to spark conversation and activities, to try while listening to the songs.
Purchase links:
https://superstolie.bandcamp.com/album/family-in-harmony
https://www.amazon.com/Super-Stolie-Family-Harmony-Read-Along/dp/1722827629
MY TIDBITS
I had not heard Super Stolie's music before, so this book and CD were a real treat. The music has a gentle, fun flair which is great for kids to listen to again and again. Each song tells a story and draws listeners into imagination. Some songs near a country feeling, while others use other musical instruments and incorporate moments from the surrounding world for inspiration. It's a fun mix.
The lyric book is a wonderful addition to the CD. Each song is presented on a two-page spread with fitting illustrations. Extra activities such as possibilities to color a picture, a guessing game for different instruments, suggestions for pretending certain moments or simply questions which lead to thought and discussion accompany each song. This allows parents and caretakers to dig into each song with the kids and explore the meaning at a more personal level.
While the accompanying lyrics help readers to sing-along, it isn't for beginner readers but rather those sure of words and language. Still, it's a nice way to encourage reading and help children to playfully recognize some of the text. The bilingual song is nicely done, allowing the languages to sit one page to the other, making the comparison simple and fun.
The bright pages invite young listeners to flip through on their own, but this is a book which is best used together. Especially fans of Super Stolie's music will enjoy these pages and feel drawn in through the various activities.
More about...
Super Stolie
is a musician, who not only has several wonderful, sing-along albums out, but also performs live shows. You can find out more about her...
www.SuperStolie.com