Today's read doesn't hit the shelves until early March next year, but the second I saw it, I had to dive in. The title grabbed my attention because...well, a spider wanting to be a kitten? If that's not original, I don't know what is. And I liked the name Luigi for a spider, since I'm pretty sure I've never heard of anyone naming their spider that, either. The entire thing screams 'I'm a good read' to me. Now, let's find out if it is.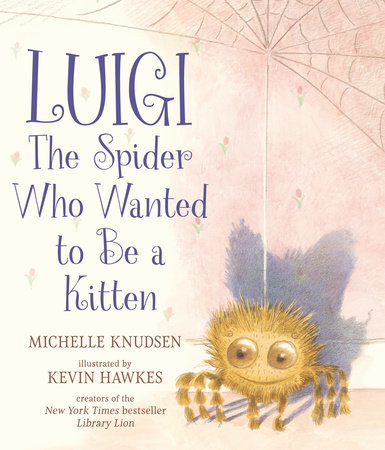 LUIGI, THE SPIDER WHO WANTED TO BE A KITTEN
by Michelle Knudsen
Illustrated by Kevin Hawkes
Candlewick
Picture Book
40 pages
ages 4 to 8
COMING...
MARCH 5TH, 2024!!!
From the New York Times best-selling creators of Library Lion comes a warm (and delightfully fuzzy) storybook about learning to be—and be loved for—exactly who you are.
On a street of old houses, a big hairy spider is searching for a home with dark corners to hide in. But when he wakes up, he finds a hand reaching for him and a lady proclaiming that she has always wanted a kitten—and will name him Luigi! At first, a somewhat puzzled Luigi, used to being left alone to creep and dangle and spin webs, resists her kind advances. But soon, tasty breakfasts and getting tucked into bed (no one's ever wished him good night before) have him thinking that kittens surely live magical lives.
I will be a kitten!
he decides. But how long can he keep up his facade, and what might be at stake in pretending to be someone you're not? The award-winning duo behind Library Lion delivers another classic in the making, marked by humor and depth, endearing characters, and the assurance that the right people will accept and adore us, unconditionally, just as we are.
MY TIDBITS
This spider breaks through the creepy barrier to achieve cuteness and proves that even unexpected creatures can be cuddly and adorable.
After entering a house, Luigi can't wait to crawl into a dark space and build his web, but just as he's getting settled in, the elderly woman catches him and claims he's a kitten. Before he knows it, she's feeding him, playing with him, and even wants to cuddle with him. While not sure what to think of everything, Luigi soon realizes that life as a kitten isn't that bad. Now, he only has to hope that the elderly woman doesn't realize her mistake.
Spiders can be cute, and that realization hits for some of us careful-creepy-crawly readers out there thanks to this read. Luigi wins over not only with his fuzziness, but with his loveable attitude...and desire to be loved. As a spider with a good heart and not the slightest evil intention, it's heart-warming to watch him step out of his comfort-zone (or be carried out of it, in this case) and grow with experience.
Inspiring friendship mixes with kindness and acceptance to form a wholesome read. There's just the right amount of tension to keep it interesting and a lovely twist at the end, which packs goodness all on its own. It works well as a read-aloud and will have more than a few readers wishing they could have Luigi as a pet, too. I enjoyed the originality of this one quite a bit, and with the touching character added to it, I can see this one becoming one of those reads, which often ends with an 'again'.
And here they are...
Michelle Knudsen
is the
New York Times
best-selling author of
Library Lion
,
illustrated by Kevin Hawkes;
Argus
, illustrated by Andréa Wesson;
Big Mean Mike
,
illustrated by Scott Magoon; and
Marilyn's Monster
, illustrated by Matt Phelan,
as well as the Trelian middle-grade fantasy trilogy and the Evil Librarian YA horror-comedy trilogy. She lives in Brooklyn, New York, and is terrified of spiders.
Kevin Hawkes
is the author and illustrator of
The Wicked Big Toddlah
and
The Wicked Big Toddlah Goes to New York
, and is the illustrator of many well-loved books for young readers including
Imagine That
:!
How Dr. Seuss Wrote
t
he Cat in the Hat, Library Lion
,
My Little Sister Ate One Hare, My Little Sister Hugged an Ape
,
And to Think That We Thought That We'd Never Be Friends
,
The Road to Oz
,
Velma Gratch, and The Way Cool Butterfly
. He lives in Gorham, Maine.