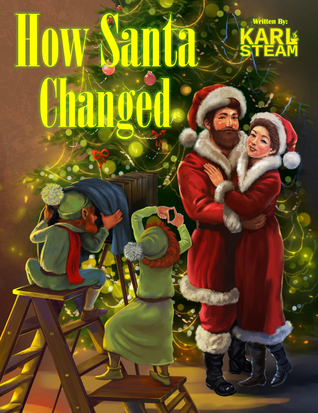 HOW SANTA CHANGED
Illustrated by Maksym Stasiuk
Think you know Santa? Think again. Discover what Santa was like when he was young and the events that helped him become the jolly man we like so much.
How Santa Changed is a story that explains many of the familiar things we associate with Santa Claus. Why does Santa use reindeer to pull his sleigh? Why does he have elves help him make toys? Why does he have a white beard? Why does he walk with jolly and cheer?
Mrs. Claus is not left out either. If readers pay close attention, they will discover some of the strategies that helped her to become the most famous baker in history.
This book contains timeless lessons for both children and adults alike, but not in an annoying way. It's a story that loved ones will want to read year after year.
MY TIDBITS
What a lovely Christmas tale! With a bit of a traditional flair, this story starts at the beginning and demonstrates how even Santa Claus had to learn a few things to become as wonderful as he is.
Santa Claus always wanted to make children smile with his gifts—hand-made ones from him alone. While this worked for many years, the world's population increased. Not only did he work constantly to make toys but even the moose pulling his sleigh couldn't handle the increasing weight of presents. Mrs. Claus tries to persuade him to find help, but he insists that children expect to have gifts from him and only him. One Christmas night, it all becomes too much and surprising things happen.
I'm not sure why, but I went into this book a little bit uncertain about what I'd find. My concerns were completely unnecessary. This is a wonderful Christmas story, which adds a lovely dimension to Santa Claus while not changing his image and sticking to the traditional atmosphere. Santa Claus is the warm-hearted character children love, and he loves the children. Mrs. Claus adds a nice touch with her cookie baking escapades. The look into Santa's past, only makes him more of an inspiration.
The illustrations fit the tale as nicely as marshmallows to hot chocolate. They accompany the text, making it clear what is happening but, at the same time, adding emotions and details in all the right ways. The style is more traditional like the story and has the same loving touch that Santa gives his toys. It's a treat to flip through them.
There's a nice message in the story too. Change is not always bad and sometimes necessary, and sometimes, this requires accepting help from others. It's a message of giving and accepting—right along Christmas lines.
And here he is...
Previously a junior high school teacher, Karl Steam is now the author of the Kids vs. Nature series, How Santa Changed, and Purple Pup. He lives in the Upper Midwest, with his wife and four children.
www.karlsteam.com