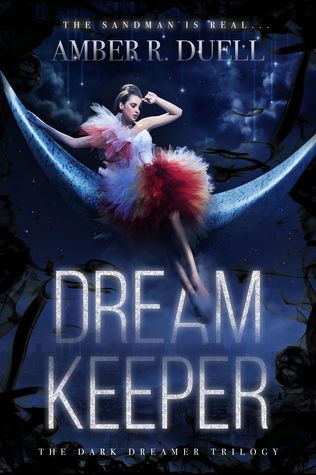 DREAM KEEPER
The Dark Dreamer Trilogy, Book One
COMING...
JANUARY 29th, 2019!!!
The Sandman is seventeen-year-old Nora's closest friend and best-kept secret. He has to be, if she doesn't want a one-way ticket back to the psychiatrist. It took her too long to learn not to mention the hooded figure in her dreams to her mother, who still watches Nora as if she'll crack. So when Nora's friends start mysteriously dying gruesome deaths in their sleep, she isn't altogether surprised when the police direct their suspicion at her. The Sandman is the only one she can turn to for answers. But the truth might be more than she bargained for…

For the last five years, the Sandman has spent every night protecting Nora. When he hid the secret to the Nightmare Lord's escape inside her dreams, he never expected to fall in love with her. Neither did he think his nemesis would find her so quickly, but there's no mistaking his cruel handiwork. The Nightmare Lord is tired of playing by the rules and will do anything to release his deadly nightmares into the world, even if that means tormenting Nora until she breaks.

When the Nightmare Lord kidnaps Nora's sister, Nora must enter enemy territory to save her. The Sandman is determined to help, but if Nora isn't careful, she could lose even more than her family to the darkness.

(Please note: This story contains vivid death scenes.)
MY TIDBITS
A trip in Dreamland holds so much more than expected, especially when it comes to what lurks in the shadows.
Nora isn't sure whether she's crazy or not, but it doesn't matter. She needs to hide her vivid dreams and hallucinations no matter what, or it's back in therapy with her. Not to mention how badly her mom would take it. But the dreams aren't letting go. They're becoming more alluring than before, especially the stranger, the Sandman. When strange and horrible deaths begin occurring in real life right in front of her, and a dark voice awaits at every turn, Nora's sure she'd gone off the deep end. But reality is worse.
The premise in this book grabbed me in. To be caught up in a battle between dreams and nightmares, ones which open up in real life, is terrifying and a wonder at the same time. The Sandman enters reality with unexpected grace and normality, something which added to the story. The Nightmare Lord, on the other hand, holds his creep factor high by never fulling appearing outside of his horrible voice and chills of air. The real terror unfolds with the vivid death scenes, each more brutal than the last. The tension remains high and there's definitely tons of unexpected twists and turns. In other words, there's a lot to make this a read which is hard to put down.
While Sandman and the Nightmare Lord held a lovely magical atmosphere, there was a little lacking on the Sandman's side. Dreamland didn't hold any wonder, which was disappointing, and his power wasn't as startling as it could have been. But holding him back also made the romance end more believable. The author digs into his head instead of Nora's during a few chapters, which allows him to grab some depth. Depth was also missing in the background information concerning the Sandman and the Nightmare Lord. The battle between the two is fierce, and the threat of the Nightmare Lord is clear, but there is little behind the shared friendship beforehand as well as the moment it fell apart. More would have helped.
There are two amazing characters which sadly really make an appearance toward the end of the book. These two have more richness and possibility than the Nightmare Lord, and it will be fun to explore them in the upcoming books. I still wish they would have appeared earlier.
In any case, this is an engaging read which holds dark moments, cute romance, and a bit of mystery, and it opens up well for the rest of the series.