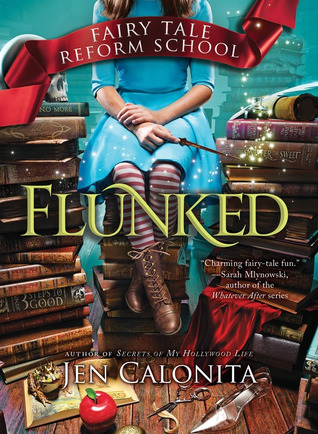 FLUNKED
Fairy Tale Reform School, Book One
by Jen Calonita
Sourcebooks/Jabberwocky
Tween Fairy Tales/Fantasy
256 pages
ages 10 and up
Would you send a villain to do a hero's job? An exciting new twisted fairy tale series from award-winning author Jen Calonita.

Full of regret, Cinderella's wicked stepmother, Flora, has founded the Fairy Tale Reform School with the mission of turning the wicked and criminally mischievous into upstanding members of Enchantasia.

Impish, sassy 12-year-old Gilly has a history of petty theft and she's not too sorry about it. When she lifts a hair clip, she gets tossed in reform school-for at least three months. But when she meets fellow students Jax and Kayla, she learns there's more to this school than its sweet mission. There's a battle brewing and she starts to wonder: can a villain really change?
MY TIDBITS
This is a fun read packed with a little bit of snarkiness, a good dose of mischief, danger, secret agendas, attitude, magic, quirkiness and tons of references to popular fairy tales along the way. In other words, it a book with punch.
The main heroine, Gilly, is one of many siblings living in the shoe maker's shoe. Since Cinderella let the Fairy Godmother simply magic up all future glass slippers instead of ordering them from the shoe maker, Gilly's family is poor and barely making it by. Gilly loves her family and helps them the only way she can: she steals from the rich to buy food for her brothers and sisters. Gilly gets caught and ends up in reform school, where Cinderella's step-mother, in attempts to redeem herself, teaches potentially 'gone astray' kids how to become heroes and heroines.
Gilly is quite the character. She's a thief, she's got attitude and she has a mouth. She isn't evil—her heart is in the right place—but she's everything but sweet. But then, nobody at reform school is extremely lovable. These flawed characters are exactly what tweens will love. This borders right along the line between childish fun and teenage drama, causing an exciting and quirky mix. Plus, there's action. Tons of it.
With many of the 'evil' characters from fairy tales running this school, it's hard to know which ones are honestly trying to reform and which ones are acting. It makes it impossible to guess who the real bad guy is or where the danger is coming from, when the plot starts to thicken. Even Gilly's friends crowd the gray-zone, all bordering on becoming villains themselves.
Fans of fairy tales and magic battles will love this one, especially those ages 10 to 14. It's light on the emotional end, keeping focus on the fast paced plot, and holds many problems this age group will understand and identify with.