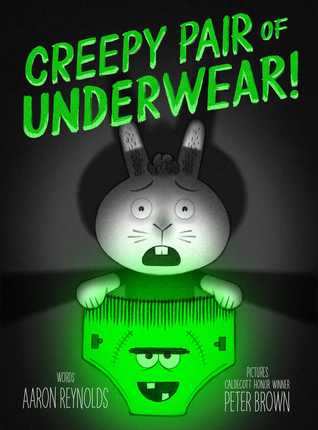 CREEPY PAIR OF UNDERWEAR!
Illustrated by Peter Brown
Simon & Schuster Books for Young Readers
Jasper Rabbit is NOT a little bunny anymore. He's not afraid of the dark, and he's definitely not afraid of something as silly as
underwear
. But when the lights go out, suddenly his new big rabbit underwear glows in the dark. A ghoulish, greenish glow. If Jasper didn't know any better he'd say his undies were a little, well,
creepy
. Jasper's not scared obviously, he's just done with creepy underwear. But after trying everything to get rid of them, they keep coming back!
MY TIDBITS
Glow in the dark underwear, ghostly thrills and an ending as sweet and quirky as can be--this is a picture book to make the youngest spook fans giggle for glee.
Jasper Rabbit is not thrilled about his mother taking him underwear shopping until he spots the best underwear in the world--creepy, glow in the dark green ones. Thank goodness he's a big bunny now and can handle such things. That is, until he gets home at night and realizes just how spooky this pair of underwear can be.
The front cover of this book already demands attention. Dark, green, ghoulish and all centered around a pair of underwear. Jasper, the bunny, is the perfect character to take front stage in this creepy tale. Bunnies, by nature, are cute and sweet, and Jasper offers just the right amount of distance from real life to keep the youngest listeners from getting too uncomfortable. This tale walks the beginning border of a chilling thriller, letting the youngest fear-seekers grab a first taste without suffering too many goosebumps. It's cute, it's quirky and it's just a lot of fun.
The illustrations keep a dark touch, allowing the atmosphere to seep through on every page. The emotions are easy to read on Jasper's (and the underwear's) expressions, making this a picture book kids can skim through all on their own too, time and again. The only thing missing was a page or two. . .or even the cover. . .with a real life, glow-in-the-dark effect. But the illustrations do a terrific job in getting the feeling across sound and clear.
Although this takes Jasper through quite a trip to get rid of some extremely persistent underwear, the last pages do a great job of bringing the spookiness back down and swinging it over into a somewhat silly, but also, in its own way, heart-warming end. Now, if only we all could own such a creepy pair of underwear.
You might also be interested in Aaron Reynold's companion book:
And here they are. . .
The author. . .
Aaron Reynolds
isn't scared of carrots or underwear, but he's terrified of black olives. He's the author of many books for kids, including
Superhero School, chicks and salsa
and the
Joey fly, Private Eye
graphic novel series. His books have been featured on the Henson Productions national television show,
Between the Lions,
and nominated for many awards including the 2010 Edgar Allen Poe Mystery Award and the Monarch Kid's Choice Award. He lives in Chicago with his wife, two kids and four neurotic cats. You can visit Aaron at www.aaron-reynolds.com.
The Illustrator. . .
Peter Brown is the author of Children Make Terrible Pets and the critically acclaimed artist of Chowder and flight of the Dodo. He is a graduate of the Art center College of Design in Pasedena, California. He now lives in Brooklyn, New York. Visit Peter at www.peterbrownstudio.com.