Summer isn't done, yet...to the relief of my kids, who never like school to start up again...and I'm excited to spend some hours outside, enjoying cool evenings with a book in my hand.
This month, I'm not sure if a single theme sticks out. After doing some counting, I discovered I have a pretty even balance of picture books, middle grade reads, and young adult novels...and that doesn't happen very often. There's some fantasy, dystopians, humor, contemporary... oh and chills with thrills are included, too. Add some fairy tale retellings, mysteries, wonderful non-fiction...
Let's just call this month the one with a little of everything!
Grab that beach towel, some sunscreen, and let's see what goodies are on their way!
D-39: A ROBODOG'S JOURNEY
The blurb caught my attention right away—a dystopian future where civil war rages, but a 12-year-old boy lives out on the land away from it all...and is bored. When he finds a government created robodog, an amazing journey and adventure begins. More I don't know, but we'll find out on the 2nd!
Middle Grade Science Fiction / Dystopian
THEY CALL ME LUCKY
Nothing warms the heart like a cute bunny! Doesn't this one look adorable? I enjoy gentle adventures and bet this one is a sweet read. Take a snuggle with me on the 7th.
Picture Book
THE WHALER'S DAUGHTER
Set in the 1910's, this one follows a girl as she swears revenge on ocras. She's convinced they hunted down and killed her brothers. As a young girl, she's not supposed to be on a whale hunting ship, let alone become a part of the crew. I'm looking forward to this one and will hit high seas on the 11th.
Middle Grade Historical
UNDER THE MILKY WAY
What's summer without a romantic read? But those out there, who want more than a little romance might also like this one. There's the hint at something beyond the stars and a dash of science fiction. Add dark secrets, high school issues, and...well, I'll know more by the 12th.
Young Adult Contemporary
ONCE UPON A CAMEL
I can't begin to tell you how excited I am to get my hands on this one. I've seen it popping up here and there for months and have wanted to see what all the buzz is about. Hear more about it on the 16th.
Middle Grade Animal Fiction
DAGGER HILL
From cuteness to horror? You bet! I don't read a whole lot in this genre, but this one caught my attention. It's about a small, sleepy town and four friends who stumble across a very creepy mystery. Coming from Swoon Reads, this seemed a strange fit...but I'm ready to discover what it's about on the 17th.
Young Adult Paranormal / Horror
Adorned with a foreword from Jane Goodall, this one hits on the story of a teenage boy, who gives everything he can to help two bears. It should carry tons of heart and emotions. Find out more with me on the 20th.
Young Adult Contemporary
From bears to dragons! This one takes a boy on a fantastic adventure, while addressing the problem of being shy. There are dragons galore (I already took a quick peek), but find out more with me on the 22nd.
Picture Book
DRAGON'S WALK AMONG US
Staying in the dragon theme, it's time to toss them into reality. I found the surmise on this one intriguing. A high school girl looses her sight in an accident, but an operation leaves her seeing some people with a dragon-like double imposed on them. See if dragons exist with me on the 23rd.
Young Adult Fantasy
This one has been receiving praise for its lovely illustrations and masterful handling of tough issues. It's suppose to hold a wonderful atmosphere of hope as well. Take a look with me on the 26th.
Picture Book
Oh, and I still have this month's joker read... something which is waiting on the sidelines in hopes of getting a chance to pop in and shine.
Ready?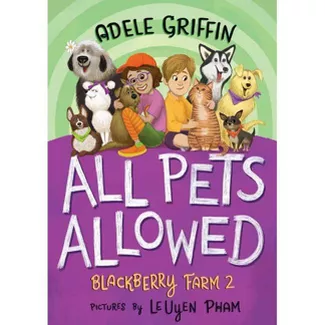 ALL PETS ALLOWED
This is the 2nd in the Blackberry Farm series. I read the first a while back, and having enjoyed it, am looking forward to see what this second adventure holds. When will I get to it? Only the stars know!
Middle Grade Contemporary