It's Mommy's Day here on Bookworm for Kids! Every so often, I present a book for parents, since they like to read too. These books do not contain material which goes beyond which is seen as appropriate for Young Adults. In other words, these are adult books but not the kind which need to be hid away for fear the kids might grab them up and flip through them.
Today's book is a mystery set in the 1940's with two characters, who remind of Moonlighting.
MURDER IN THE CITY OF LIBERTY
A Van Buren and Deluca Mystery, #2
by Rachel McMillan
Thomas Nelson
Mystery
336 pages
Hamish DeLuca and Regina "Reggie" Van Buren have a new case--and this one brings the war in Europe dangerously close to home.
Determined to make a life for herself, Regina "Reggie" Van Buren bid goodbye to fine china and the man her parents expected her to marry and escaped to Boston. What she never expected to discover was that an unknown talent for sleuthing would develop into a business partnership with the handsome, yet shy, Hamish DeLuca.
Their latest case arrives when Errol Parker, the leading base stealer in the Boston farm leagues, hires Hamish and Reggie to investigate what the Boston police shove off as a series of harmless pranks. Errol believes these are hate crimes linked to the outbreak of war in Europe, and he's afraid for his life. Hamish and Reggie quickly find themselves in the midst of an escalating series of crimes that seem to link Boston to Hamish's hometown of Toronto.
When an act of violence hits too close to home, Hamish is driven to a decision that may sever him from Reggie forever . . . even more than her engagement to wealthy architect Vaughan Vanderlaan.

MY TIDBITS
This is the second book in the series, and although I haven't read the first novel yet, I had no trouble sinking into the second. So, yes, this can be read as a stand alone. However, the character and story is so enjoyable, that I'd recommend starting with the first book (which I'm going to have to do myself).
Reggie is a woman, who is very focused and knows where she's headed. Her partner, Hamish, is more quiet and relaxed. Together, the two make a wonderful pair of detectives, who insist on remaining friends despite the attraction. The two are hired by a baseball player to discover the truth behind pranks, which the player is sure fall into the category of hate crimes.
I enjoy a fun jaunt into history, and this book does a wonderful job of that. The setting is nicely laid out and comes across with lovely details in just the right way to lure the reader in. It's easy to get lost in the world building an seep back into time.
In this book, the theme of racism and hate crimes is presented while remaining very true to the historical period. While this is a mystery, these social themes come through loud and clear. Still, the mystery takes center stage and weaves with exciting surprises, red herrings and carefully hidden clues. It's hard to guess where the entire thing is going and holds some unexpected twists just as a good mystery should.
Outside of the world building, it's the two detectives which make this a fun read. The pair reminds of the television series Moonlighting. Reggie is strong and determined, while Hamish leans toward the more relaxed end of things. The romantic tension between them buzzes strong, although Reggie refuses to acknowledge anything. It makes for a nice back and forth to keep the tension high.
It will be fun to see where this series goes next.
And here she is...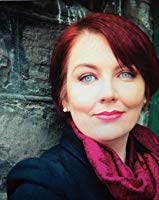 Rachel McMillan is the author of the Herringford and Watts mysteries, the Three Quarter Time series of contemporary romances set in opulent Vienna, and the Van Buren and DeLuca mysteries praised for bringing an authentic 1930's Boston world to life while normalizing the fictional conversation surrounding mental illness. Her first work of non-fiction, described as a romantic's guide to independent travel, releases in 2020. Rachel lives in Toronto, Canada.