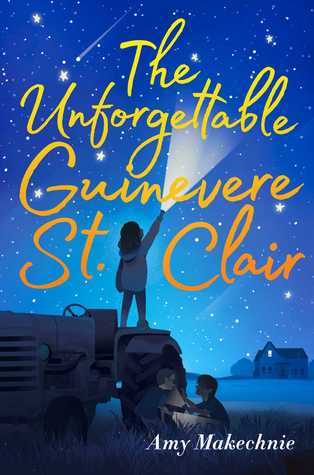 THE UNFORGETTABLE GUINEVERE ST. CLAIR
Atheneum Books for Young Readers
Middle Grade Contemporary
A ten-year-old girl is determined to find her missing neighbor, but the answers lead her to places and people she never expected—and maybe even one she's been running away from—in this gorgeous debut novel that's perfect for fans of
The Thing About Jellyfish
.
Guinevere St. Clair is going to be a lawyer. She was the fastest girl in New York City. She knows everything there is to know about the brain. And now that she's living in Crow, Iowa, she wants to ride into her first day of school on a cow named Willowdale Princess Deon Dawn.
But Gwyn isn't in Crow, Iowa, just for royal cows. Her family has moved there, where her parents grew up, in the hopes of jogging her mother Vienna's memory. Vienna has been suffering from memory loss since Gwyn was four. She can no longer remember anything past the age of thirteen, not even that she has two young daughters. Gwyn's father is obsessed with finding out everything he can to help his wife, but Gwyn's focused on problems that seem a little more within her reach. Like proving that the very strange Gaysie Cutter who lives next door is behind the disappearance of her only friend, Wilbur Truesdale.
Gwyn is sure she can crack the case, but when she does she finds that not all of her investigations lead her to the places she would have expected. In fact they might just lead her to learn about the mother she's been doing her best to forget.
MY TIDBITS
This read is packed to the gills with emotion, warmth, mystery, hope and heart.
Gwyn moves with her parents from New York back to her mother's childhood town—a very small town—with the hope that the environment will help her mother's memory return.While there, Gwyn befriends the neighborhood boys and soon finds herself investigating a man's disappearance. In the process, Gwyn uncovers so much more than she ever expected to.
This was not the book I expected, and the surprise was a treat. Gwyn is a loving girl with spunk, who is trying to handle the situation with her mother's memory loss. Considering her mother acts and thinks like a little child, Gwyn's reactions and hesitations are understandable. The culture shock of moving from New York to the little town adds to her difficulties, and is also very well done and believable. Gwyn has a lot on her plate and she has a personality to go with it, which makes her easy to sympathize with and cheer for.
The other characters are colorful and, especially Gaysie, have a personality all of their own. And it's this which makes the read unexpected and quirky and sometimes, simply, odd.
There is a lot going on in these pages. Not only is Gwyn trying to come to terms with her mother's condition, but the mysteries in the town hit many levels. There are many layers not only to the plot but to the feelings, making this a read even adults will enjoy. That said, the complexity also slows the read down and keeps the pacing at bay.
Still, this is an engaging read with characters who are hard to forget after the last page is done.
And here she is...
Amy Makechnie
lives in New Hampshire with her husband and four children. You can visit her at MaisyMak.com.