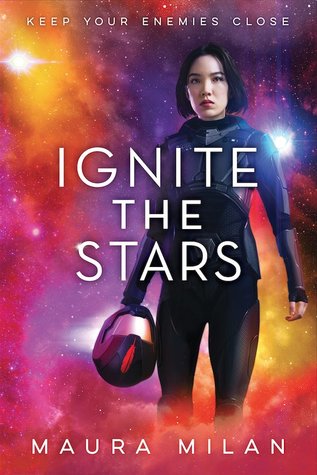 IGNITE THE STARS
COMING. . .
SEPTEMBER 4th, 2018!!!
Everyone in the universe knows his name. Everyone in the universe fears him. But no one realizes that notorious outlaw Ia Cocha is a seventeen-year-old girl.
A criminal mastermind and unrivaled pilot, Ia has spent her life terrorizing the Olympus Commonwealth, the imperialist nation that destroyed her home. When the Commonwealth captures her and her true identity is exposed, they see Ia's age and talent as an opportunity: by forcing her to serve them, they will prove that no one is beyond their control.
Soon, Ia is trapped at the Commonwealth's military academy, desperately plotting her escape. But new acquaintances—including Brinn, a seemingly average student with a closely-held secret, and their charming Flight Master, Knives—cause Ia to question her own alliances. Can she find a way to escape the Commonwealth's clutches before these bonds deepen?
In this exhilarating edge-of-your-seat sci-fi adventure—perfect for fans of The Lunar Chronicles—debut author Maura Milan introduces our world to a thrilling new heroine.
MY TIDBITS
This is a space adventure packed with action, tension, mystery, intrigue and a main character who packs a huge punch. In other words, this was a thrill to read!
Ia Coche is the most feared name in the galaxy, one everyone knows and fears. When Ia Coche is finally captured, no one can believe the most dangerous rebel is a seventeen-year-old girl. The Commonwealth gives her two options: life-long sentence in a hellish prison or enrollment at the highly elicit Military Academy. When she walks into the academy, no one is ready for her, but then, she isn't there to deal with any of them. Determined to escape, she starts to work on a plan, but as the layers of intrigue behind her capture, and the real reason she's been enrolled into the school unfold, everything she ever believed comes into question. Still, she is Ia Coche, and all who stand against her will learn the real meaning of fear.
This book captures and shoots off with pure adventure into the stars. Ia Coche is a true space rogue and adventurer. She is tough and will not let anyone get in her way. Her past is violent, and she has tons of blood on her hands. But even in the first chapter it's clear, she's fighting a war for those who can't fight on their own. This lone hero against all odds makes her very easy to cheer for and like, although her personality definitely has its fill of rough edges.
While this story centers around Ia Coche, the other characters have their own personal tales, challenges, desires and obstacles. The books is written from several points of view, allowing each of these subplots to mold and develop as they carefully weave with Ia Coche's. There are characters to love, some to hate, and some who rock back and forth. It gives the story richness and depth, making each character grow on the reader along the way.
Action is key followed closely by intrigue. Ia Coche is a teenager placed in an academy, but this is not the average teenage drama tale. There are friendships, a very light dusting of something which might be considered romance, and rivalries, but this only helps to make the academy scene more realistic. Ia Coche's battle to discover her true enemies and uncover a web of intrigue, while fighting for her freedom remain at the center of the tale—bright and clear. There are emotional moments, ones which get under the skin and make Ia Coche and the others more realistic, but they perfectly balance with high tension and exciting scenes. There is never a boring or slow moment in these pages.


Summed up, this is a fantastic science fiction read with a heroine to root for. Friends of space adventure, tension, political intrigue, evil plots and a heroine to take on all of them, are going to enjoy this one from beginning to end.