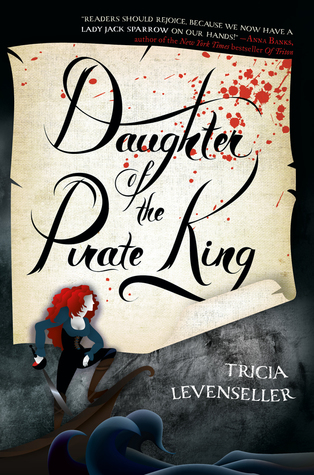 DAUGHTER OF THE PIRATE KING
Daughter of the Pirate King, Book One
A 17-year-old pirate captain intentionally allows herself to get captured by enemy pirates in this thrilling YA adventure.
Sent on a mission to retrieve an ancient hidden map—the key to a legendary treasure trove—seventeen-year-old pirate captain Alosa deliberately allows herself to be captured by her enemies, giving her the perfect opportunity to search their ship.
More than a match for the ruthless pirate crew, Alosa has only one thing standing between her and the map: her captor, the unexpectedly clever and unfairly attractive first mate, Riden. But not to worry, for Alosa has a few tricks up her sleeve, and no lone pirate can stop the Daughter of the Pirate King.
Debut author Tricia Levenseller blends action, adventure, romance, and a little bit of magic into a thrilling YA pirate tale.
MY TIDBITS
Never trust a pirate, especially in this high-tension tale where sword fights and stormy waters are nothing compared to deception's games.
Alosa isn't just a pirate, she's the feared pirate king's daughter. When she lets herself get captured to fulfill a task for her father, the circumstances - which would be horrifying to anyone else - are nothing more than an adventure. Or so she thinks.
I'd heard a lot about this book and was excited to get my hands on it - although I wasn't sure it would be something I'd enjoy. The first chapters swept me away.
Alosa isn't only capable, she's a real treat. She knows her strengths, and she knows she's clever. For her, dangerous situations are all fun and games. Even though she borders on arrogant, she's simply a ton of fun. Her fearlessness puts even the bravest pirate to shame, but it's her secret heart of gold which rounds off the sharpest edges of her personality.
The other characters in the book are rich with personality, each demonstrating very distinct characteristics. They come to life, creating a crew which calls for dread and humor at the same time. Especially the dialogue exchanges are a joy to read-packed with sarcasm, hidden messages and stabbing humor. Alosa dances with her words around everyone, but finds a few who match pace and make for a dangerous game.
There's never a boring moment as the sea and the pirating world come to life. Alosa goes from one high-tension moment to the next, often with very bloody and deadly stakes. This book is heartless in that respect. Pirates die violent deaths, and there isn't a twitch of regret. Pirating life is not a dainty past time, and that is clear in these pages. Alosa plays her part of deception like a master, but she isn't the only one - and it's this tension which grabs hold the entire way through.
Secrets come in layers, but in this rough world, it's the softer ones which are the most dangerous. The author does a great job of making these moments not only a facet of intrigue but creates a needed warmth to make the characters sympathetic. It's hard not to root for them, even with horrendous acts. Things like romance gain an extra edge, since even this aspect isn't clear cut. Not even at the end.
The only thing which bothered me was the heavier twist into fantasy toward the end. Although the story didn't lose pace through it, it weakened Alosa's character and strength. But this is a very personal opinion, which others probably won't be bothered by in the least.
Summed up, this is an exciting read which takes to the seven seas and back again. The wit is a real treat. Fans of adventure are sure to enjoy this one.