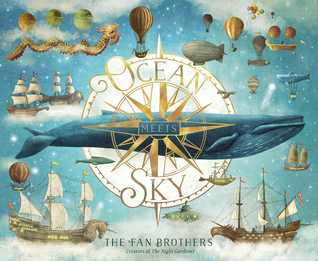 OCEAN MEETS SKY
Terry Fan and Eric Fan
Simon Schuster Books for Young Readers
Picture Book
ages 4 to 8
48 pages
"Young readers will be captivated." —The Washington Post

From the creators of the gorgeous bestseller The Night Gardener, comes a stunning new picture book about a young boy who sets sail to find a place his grandfather told him about…the spot where the ocean meets the sky.

It's a good day for sailing.

Finn lives by the sea and the sea lives by him. Every time he looks out his window it's a constant reminder of the stories his grandfather told him about the place where the ocean meets the sky. Where whales and jellyfish soar and birds and castles float.

Finn's grandfather is gone now but Finn knows the perfect way to honor him. He'll build his own ship and sail out to find this magical place himself!

And when he arrives, maybe, just maybe, he'll find something he didn't know he was looking for.
MY TIDBITS
This is simply a beautiful, imagination packed book which invites to dream and ride on fantasy's wings.
Finn lives by the ocean, and he misses his grandfather, who loved ships and sailing. On what would have been his grandfather's ninetieth birthday, Finn decides to honor him by building a boat of his own. The results aren't only a boat but an amazing trip not only to the high-seas but beyond.
Illustrations, dreams and words find the perfect blend in these pages, creating not only a lovely read but a piece of art. Starting out with an average boy remembering his grandfather, this story mounts into a magical journey. There's a touch of Asia in the pages and the beauty of the culture and myths (especially of the giant golden fish) hit like a gentle dusting.
Imagination takes flight in this book and, with the amazing illustration, invites to gaze and dream. There's something new to find in the details every time, making this a book to flip through time and again. It's great as a bedtime read, especially with the moon taking on a lovely role toward the end.
There are many things to love about this book, including the journey the boy makes to reach these dreams. First, there's a warming memory of his grandfather—he misses his grandfather but its the wonderful memories which stand on center stage. Then, the boy constructs his own ship, putting his feelings and imagination to work. When the fantasy kicks in, it's spellbinding and offers a message of hope and encouragement. This one will receive a special place on our shelves.
And here they are. . .
Eric Fan
is an artist and writer who lives in Toronto, Canada. Born in Hawaii and raised in Toronto, he attended the Ontario College of Art and Design, where he studied illustration, sculpture, and film. He has a passion for vintage bikes, clockwork contraptions, and impossible dreams. See more of his work at Society6.com/opifan64 and on Facebook (Eric Fan Illustration).
Terry Fan received his formal art training at Ontario College of Art and Design in Toronto, Canada. His work is a blend of traditional and contemporary techniques, using ink or graphite mixed with digital. He spends his days (and nights) creating magical paintings, portraits, and prints. Born in Illinois, he now lives in Toronto. Visit him online at Krop.com?TerryFFan and Society6.com/igo2cairo and on Facebook (Terry Fan Illustration).