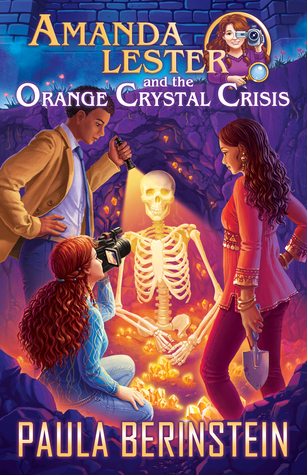 AMANDA LESTER AND THE ORANGE CRYSTAL CRISIS
Amanda Lester, Detective Volume 2
by Paula Berinstein
The Writing Show
YA/MG Mystery
ages 10 +
424 pages
If only Sherlock Holmes's great-great-grandson weren't such a dork . . .
There's a new student at the Legatum Continuatum School for the Descendants of Famous Detectives and Amanda is supposed to work with him. Scapulus Holmes is a descendant of the great Sherlock and he's crazy about her. Unfortunately she thinks he's a dork and would rather die than have anything to do with him.
But when the kids discover a dead body encrusted with strange living crystals, Amanda realizes she needs Holmes's help. If the crystals fall into the wrong hands they could be used for nefarious purposes, and only he knows how to protect them.
Can the detectives keep the bad guys from learning the crystals' secrets? It would help if they could figure out who the dead body is too. Only if Amanda and Holmes can find a way to work together can they prevent a disaster, and it isn't looking good.
MY TIDBITS
I have already read the first book in this series, and although I'd recommend starting with book one, it's no problem to dive into Amanda Lester's adventures with book two. In other words, this can be read as a stand alone.
The first pages already had me smiling. In the beginning scene, Amanda finds out that there might again be trouble at the Legatum Continuatum School for the Descendants of Famous Detectives, and her first thought--instead of jumping excitedly into another mystery--is to run away. I don't blame her, and this reaction alone shows how human and realistic she can be.
Amanda is not the average detective. She might have a knack for it, but it's not her favorite thing in the world. And this slightly negative attitude sets the stone for her delicious personality which is sometimes sweet, sometimes kind but full of prickly faults too. She's out-spoken, opinionated, a little dramatic and simply goes over board at times. It's exactly these things which make her so much fun and easy to relate to. I appreciated the fact that although she believed to have over-come some of her faults in book one, suddenly finds herself battling with the same problems all over again. It was great to see that things don't change that easily.
There isn't a character in the book which lacks personality, though. Although there are many friends, enemies, classmates, teachers and others involved in Amanda's life, none of them is like the other and each has obvious flaws and oddities. It makes each one stick out in their own way and adds a lot of color to the story, not to mention that it makes it that much easier to remember who was who. . .something which is always important in a mystery, especially one with multi-layers.
The plot is not a simple one and neither are the secrets Amanda faces. Clues are hard to sort out and nothing is necessarily as it seems, which makes finding out the true facts behind the mystery as difficult as sorting out a bowl of sticky spaghetti. To add more depth, Amanda must take on other problems from all directions of life--sub-plots upon sub-plots. At one point in the book, she admits that there's more going on than she can handle, and this reflected my own feelings at times. I was very captured by this story and found myself drawn in, but after about three-quarters the way through, I simply had to take a break as everything began to feel a little mumble-jumbled. When I picked the book back up, I was completely drawn in again.
There's never a boring moment as Amanda is pulled from one situation into the next. Her relationship with Holmes was sweet and complicated. His personality isn't any simpler than her own, and I'm looking forward to seeing much more of him in the books to come.
Although this series is deemed for young adults, the writing and content feels more like an upper middle grade/tween mystery to me. The characters are on the younger side, and even their behavior and reactions hits this slightly younger group nicely. The logic behind a large point, the crystals, leans heavily toward fantasy, which would be more appreciated by younger audience. However, even as an adult, I was caught up and enjoyed the story completely.
At over 400 pages, this isn't a novel for lazy readers, but the plot definitely needs the length. As said, there is a lot going on and even with the larger word amount, the last big scene as well as the ending seemed to be wrapped up a little too rushed and neatly to me. Still, the ending was surprising, and I can't wait to dive into the next book to see what happens with Amanda and her friends next.
Summed up, this is a mystery packed full of so many good things. The characters are a sheer delight and there are unexpected surprised at every turn. I highly recommend this to readers ages 10 and up who love mystery, adventure and a lot of fun mixed in.