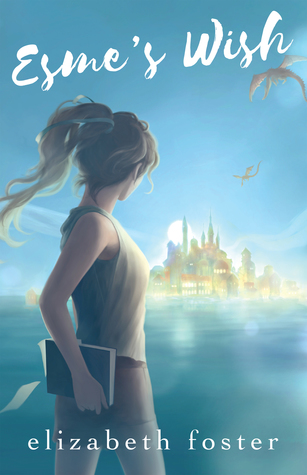 ESME'S WISH
When fifteen-year-old Esme Silver objects at her father's wedding, her protest is dismissed as the action of a stubborn, selfish teenager. Everyone else has accepted the loss of Esme's mother, Ariane – so why can't she?

But Esme is suspicious. She is sure that others are covering up the real reason for her mother's disappearance – that 'lost at sea' is code for something more terrible, something she has a right to know.

After Esme is accidentally swept into the enchanted world of Aeolia, the truth begins to unfold. With her newfound friends, Daniel and Lillian, Esme retraces her mother's steps in the glittering canal city of Esperance, untangling the threads of Ariane's double life. But the more Esme discovers about her mother, the more she questions whether she really knew her at all.

This inventive tale, the first in an MG-to-YA series, is suited to readers ten years and over. Perfect for fans of Narnia, Percy Jackson and Nevermoor.

Esme's Wish recently won first place in the fantasy category of the 2018 Purple Dragonfly Book Awards, which recognises excellence in children's literature.
MY TIDBITS
Magic, adventure, and beautiful writing make this a book to sink into and never leave.

Esme is anything but thrilled by her father's choice as he remarries, especially since the circumstances surrounding the disappearance of her mother a few years before are still unclear. Well, at least in her mind. Everyone else wants her to let go, but she can't. When she sneaks away from the ever tightening choke hold her new life has placed on her and ventures to the vacation cabin her mother loved to visit, she ends up following a strange behaving bird down to the beach. One slip and she finds herself tugged underwater into the strange world her mother told her about, but Esme was convinced existed only as fantasy. And now, her adventure really begins.

The first pages dive head first into Esme's unfortunate situation. It takes a second to settle into what's going on, but the story takes off from there. The author does a fantastic job at building subtle tension and mystery. It quickly becomes clear that something isn't right and that Esme's unwillingness to let go of her mother's memory probably isn't due to stubbornness. But the reasons behind this as well as the clear recognition are left in a mysterious haze, creating the perfect tension and opening up to the upcoming adventure.

Fantasy and imagination take flight in these pages—something I adore in middle grade novels. The descriptions are vivid yet never overwhelm. There's a great balance of familiarity and fantasy, which allows the reader to feel right at home while confronting wondrous creatures such as dragons. Esme's determined and kind, yet a little unsure. She fits the age group well and is easy to relate to. Those around her have distinct personalities and the relationships (good and bad) are fun to root for. Add the exciting world, dabs at Greek mythology and an adventure to keep the reader on the edge of the seat, and it's simply a wonderful read.

The ending rounds things off nicely while still allowing a few open doors to the rest of the series—ones that promise more adventure and fun.


Elizabeth Foster read avidly as a child, but only discovered the joys of writing some years ago when reading to her own children reminded her how much she missed getting lost in other worlds. Once she started writing, she never looked back. She's at her happiest when immersed in stories, plotting new conflicts and adventures for her characters. Elizabeth lives in Sydney, Australia, where she can often be found scribbling in cafés, indulging her love of both words and coffee. Esme's Wish is the first in the Esme series and Elizabeth is presently working on Esme's Gift, the second book in the trilogy.