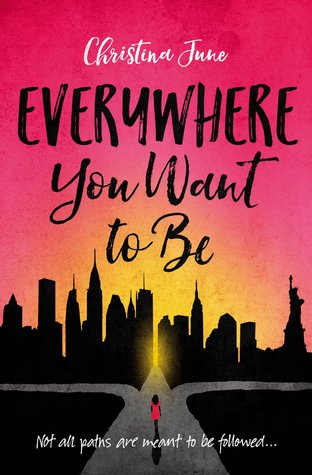 EVERYWHERE YOU WANT TO BE
by Christina June
Blink
YA Contemporary
288 pages
COMING. . .
MAY 1st, 2018!!!
From author Christina June comes
Everywhere You Want to Be
, a modern tale inspired by the classic Red Riding Hood.
Matilda Castillo has always done what she was told, but when she gets injured senior years, she watches her dreams of becoming a contemporary dancer slip away. So when Tilly gets a once-in-a-lifetime opportunity to spend the summer with a New York dance troupe, nothing can stop her from saying yes--not her mother, not her fears of the big city, and not the commitment she made to Georgetown. Tilly's mother allows her to go on two conditions: one, Tilly will regularly visit her abuela in New Jersey, and two, after the summer, she'll give up dancing and go off to college.
Armed with her red vintage sunglasses and her pros and cons lists, Tilly strikes out, determined to turn a summer job into a career. Along the way she meets new friends ... and new enemies. Tilly isn't the only one desperate to dance, and fellow troupe member Sabrina Wolfrik intends to succeed at any cost. But despite dodging sabotage and blackmail attempts from Sabrina, Tilly can't help but fall in love with the city, especially since Paolo, a handsome musician from her past, is also calling New York home for the summer.
As the weeks wind down and the competition with Sabrina heats up, Tilly's future is on the line. She must decide whether to follow her mother's path to Georgetown or leap into the unknown to pursue her own dreams.
MY TIDBITS
Taking a nod at Red Riding Hood, this tale follows a girl's decision between dancing dreams or a path her mother laid out for her.
Tilly is all set to go to Georgetown as soon as summer ends, but until then, she has the chance to dance with a temporary troupe in a show in New York. Little does her mother know she's actually already informed the college that she'll be enrolling first a year later. She's determined to use the troupe as a stepping stone into a dancing career. If she can. There aren't many spots available, she's still coming to terms with an injury and not all of her troupe members are willing to work together. In other words, there's more stumbling blocks on her journey than she could have ever expected.
Although this is a retelling of Red Riding Hood, it is a distant one. The main character is on her own in New York with plans to take a different path than her mother expects her to take. She's determined but not always sure of her decision or, at least, how it will affect those she loves. Her vulnerability makes her a character to cheer for and one that touches the heart. Her intentions are good, and she has tons of support from all sides. Not only does she meet great friends, who offer tons of wise words, but the grandmother, her abuela, is one anyone would love to call their own. There's a bit of romance too, which adds a sweet twist but never overpowers the main plot.
This is a heart and soul read, which follows Tilly on her personal journey of discovering who she is and what she wants. The author does a fantastic job at capturing a girl just leaving high school and ready to embark on what her life might be. There are some tough decisions to be made, ones with several possible solutions or outcomes. And it's exactly this which makes it flow so naturally and stay true to life.
The pacing holds steady the whole way through as Tilly turns from one situation to the next and tries to work her way through. It's not an action read but a deep exploration of decisions, possibilities and learning to remain true to oneself. Drama is key in this book, the kind which makes the reader sigh, cheer or even grab a cookie and snack along the way. It's perfect for readers who love to dive into a character, feel her emotions and be enveloped with a caring warmth with the end of the last page.
All about. . .
Christina June
is a debut author who writes young adult contemporary fiction when she's not writing college recommendation letters during her day job as a high school counselor. She is a voracious reader, loves to travel, and hopes to one day be bicoastal - the east coast of the US and the east coast of Scotland. Christina lives just outside Washington DC with her husband and the world's most rambunctious four-year-old. Visit www.christinajune.com to learn more about Christina. Follow her on Twitter: @ChristinaJuneYA and on Instagram: christinajuneya.