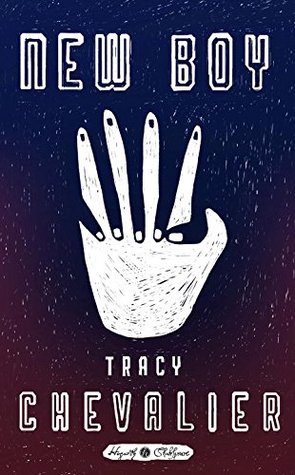 NEW BOY
From the New York Times bestselling author of Girl with a Pearl Earring comes the fifth installment in the Hogarth Shakespeare series, a modern retelling of Othello set in a suburban schoolyard
Arriving at his fifth school in as many years, a diplomat's son, Osei Kokote, knows he needs an ally if he is to survive his first day so he's lucky to hit it off with Dee, the most popular girl in school. But one student can't stand to witness this budding relationship: Ian decides to destroy the friendship between the black boy and the golden girl. By the end of the day, the school and its key players - teachers and pupils alike - will never be the same again.
The tragedy of Othello is transposed to a 1970's suburban Washington schoolyard, where kids fall in and out of love with each other before lunchtime, and practice a casual racism picked up from their parents and teachers. Peeking over the shoulders of four 11 year olds Osei, Dee, Ian, and his reluctant girlfriend Mimi, Tracy Chevalier's powerful drama of friends torn apart by jealousy, bullying and betrayal will leave you reeling.
MY TIDBITS
Setting Othello in a 1970's schoolyard, this book examines the evil bite of racism, jealousy and bullying.
Osei is the 11 year old son of a diplomat and has spent his life moving from one school to the next. When he arrives at the school in suburban Washington, the white, popular girl, Dee, takes a romantic interest him, which doesn't meet the approval of the adults and especially not of one of the children. And those classmates aren't going to let Osei get away with becoming friends with Dee.
It's been a very long time since I've read Othello, but I don't believe that a detailed memory of Shakespeare's work is necessary for reading this. The problems of racism and betrayal are bright as day, and even smaller similarities such as 'O' for Osie - or Othello - draw ties between the two stories. This book, unlike Othello's Shakespeare, is written for a young audience, and therefore, has to hold some solid differences. But the main messages and scenes come through, reminding of the original tale the entire way through.
The author does a great job in bringing the schoolyard scenes to life. The kids are concerned about rules, kick ball, team choosing and who is friends with whom. Especially the idea of a one day romance snuggles perfectly into this age bracket, since relations change back and forth and back again even within hours.
The characters were engaging but tended to behave older than their age. Their thoughts and comments sometimes came across too mature, and often times, I wondered if I was reading a story for young adults rather than middle grade. Especially Ian's plans to come between O and Dee showed more contemplation in a short time span than children that age consider--if they even do that type of deep planning. The 'big' moments of Mimi's tragedy and O's final salute didn't slide in as seamlessly as they might have, and rather left the impression that they had to take place to follow the idea of a retelling. However, these wouldn't be very easy scenes to build in no matter how the author would have gone about it.
I really appreciated the difference between how the adults viewed things and how the children saw things. The racism seeped from the teachers and parents in every phrase and word even when subtle. The kids didn't possess this same hatred, and if left to themselves, might not have developed the same racist issues, working things out for themselves.
And here she is. . .
"I was born and grew up in Washington, DC. After getting a BA in English from Oberlin College (Ohio), I moved to London, England in 1984. I intended to stay 6 months; I'm still here.
"As a kid I'd often said I wanted to be a writer because I loved books and wanted to be associated with them. I wrote the odd story in high school, but it was only in my twenties that I started writing 'real' stories, at night and on weekends. Sometimes I wrote a story in a couple evenings; other times it took me a whole year to complete one.
"Once I took a night class in creative writing, and a story I'd written for it was published in a London-based magazine called Fiction. I was thrilled, even though the magazine folded 4 months later.
I worked as a reference book editor for several years until 1993 when I left my job and did a year-long MA in creative writing at the University of East Anglia in Norwich (England). My tutors were the English novelists Malcolm Bradbury and Rose Tremain. For the first time in my life I was expected to write every day, and I found I liked it. I also finally had an idea I considered 'big' enough to fill a novel. I began The Virgin Blue during that year, and continued it once the course was over, juggling writing with freelance editing.
"An agent is essential to getting published. I found my agent Jonny Geller through dumb luck and good timing. A friend from the MA course had just signed on with him and I sent my manuscript of The Virgin Blue mentioning my friend's name. Jonny was just starting as an agent and needed me as much as I needed him. Since then he's become a highly respected agent in the UK, I've gone along for the ride."