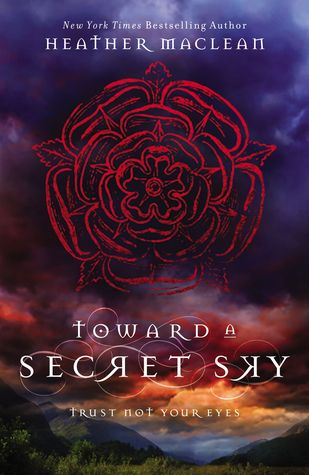 Toward a Secret Sky
by
New York Times
bestselling author Heather Maclean is a new breed of YA novel: an intelligent adventure-quest crossed with a sweeping, forbidden love story. A mix of reality and possibility, this fast-paced thriller will appeal to fans of Stephenie Meyer and Dan Brown as it leads the reader on a breathless flight through the highlands of Scotland, the secret city under London, and history itself.
Shortly after 17-year-old Maren Hamilton is orphaned and sent to live with grandparents she's never met in Scotland, she receives an encrypted journal from her dead mother that makes her and everyone around her a target. It confirms that her parents were employed by a secret, international organization that's now intent on recruiting her. As Maren works to unravel the clues left behind by her mother, a murderous madness sweeps through the local population, terrorizing her small town. Maren must decide if she'll continue her parents' fight or stay behind to save her friends.
With the help of Gavin, an otherworldly mercenary she's not supposed to fall in love with, and Graham, a charming aristocrat who is entranced with her, Maren races against the clock and around the country from palatial estates with twisted labyrinths to famous cathedrals with booby-trapped subterranean crypts to stay ahead of the enemy and find a cure. Along the way, she discovers the great truth of love: that laying down your life for another isn't as hard as watching them sacrifice everything for you
MY TIDBITS
By mixing beautiful landscapes with forbidden romance and then adding a horde of blood thirsty demons, this story promises an exhilarating ride.
Maren moves to Scottland in the same way someone jumps off of a cliff into a black void. Her family is dead, she's never met or heard anything about the grandparents she's now suppose to live with, and her knowledge of Scotland isn't exactly broad. Settling in the new life is hard, but when she meets a good looking hunter in the forest, things take a big turn, and she learns that her life has been nothing but hidden secrets up until that point. The truth is something she'll have to experience to believe.
Maren is an average, American seventeen-year-old girl, who, as is to be expected, not dealing well with her mother's sudden death. But even with this tragedy, Maren doesn't come across as a ray of sunshine kind of person. This made her very difficult to relate to in the first chapters--a few sharp edges and corners in her personality. As the story continues, the nicer sides of her appear and by the second half of the book, she's a true character to root for in every way.
The scenes and descriptions around life in Scotland with all of its variety is simply a treat. The author does a fantastic job of introducing a country full of beauty and roughness. It was easy to picture the world and seemed as if even the odor of the forest came to life. The details about food, history and culture dabble between the plot points, adding lovely tidbits without ever calling attention to them.
There's nothing slow paced about this story. Even the beginning chapters when Maren is settling in, never are too drawn out. When the demons appear and people start to die, the action is non-stop. All of this is mixed in with a lovely sense of mystery, one which also hangs greatly on Maren's interesting ability to solve puzzles. This is a nice trait not only for Maren's personality but adds a lovely bit of detective for those who enjoy deciphering things.
Of course, romance is key in these pages, and the hero is one as wonderful and perfect as can be. His personality, attitude and history are interesting and inticing, making him impossible not to like. There are stumbling blocks in the relationship, which keep the tension high. Still, this romance tends to follow the love at first sight theme as is often seen in this genre.
The ending is a cliff hanger, which demands to ride on into book two to find out what happens next. And it's sure to be another lovely adventure.