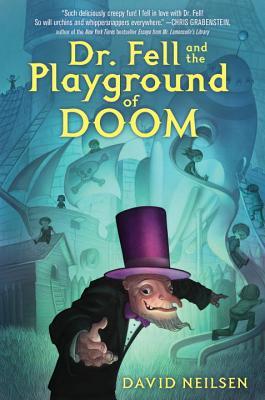 Dr. Fell and the Playground of Doom
Crown Books for Young Readers
Middle Grade Fantasy
ages 9+
240 pages
When the mysterious Dr. Fell moves into the abandoned house that had once been the neighborhood kids' hangout, he immediately builds a playground to win them over. But as the ever-changing play space becomes bigger and more elaborate, the children and their parents fall deeper under the doctor's spell.
Only Jerry, Nancy, and Gail are immune to the lure of his extravagant wonderland. And they alone notice that when the injuries begin to pile up on the jungle gym, somehow Dr. Fell is able to heal each one with miraculous speed. Now the three children must find a way to uncover the doctor's secret power without being captivated by his trickery.
MY TIDBITS
The title already sets the stage to this book, beckoning readers to join in on a spine tingling adventure which promises whimsical fun but not without a lovely amount of macabre thrown in on the side.
An abandoned house is the perfect play area for neighborhood kids until one day, it's suddenly sold. The new owner, Dr. Fell, is a strange fellow with flowery speech, an unending supply on mysterious crates and a dab of something which makes Jerry, Nancy and Gail uncomfortable in a spider crawling up the back kind of way. When he builds a gigantic playground in his front yard, he becomes the favorite man in town. Not only the kids spend more than just their free time there, but every parent and teacher is taken in by him. Only Jerry, Nancy and Gail realize something isn't right, especially when more and more kids are getting injured and miraculously healed soon after.
This book holds so many good things that I'm not sure where to start. There's whimsically silly moments, things from the dreams of children, mystery, adventure and a sprinkle of creepiness which makes goose bumps pop up and never really go away. The story takes place in an everyday neighborhood with normal kids. Well, pretty much. The setting borders right on the edge of reality, making it a delicious mixture of familiar and fantasy...what ares and what could bes. Dr. Fell is 'off' from the very start, not because of his flamboyant way of speaking--which even the mothers don't always understand--but beneath his smile and friendly show, there's a shade of darkness no one but the three main characters happen to see.
The pages fly by, making this a quick read. Each scene is easy to visualize without ever falling into the trap of being drawn out or over done. The writing is smooth and very fitting for kids 9+, and with Dr. Fell's extraordinary way of putting things, there are definitely a few words included to help boost the vocabulary. The three main characters are everyday, normal kids who aren't special in any way, but it's exactly this which makes them easy to slip into and follow. The rest of the town isn't nearly as down to Earth, which is funny to follow, since it's the adults who seem the most blind-sided by Dr. Fell.
The story progresses with a sense of mystery, but it's impossible to guess what Dr. Fell has up his sleeve. The end is as it should be and satisfies in every way while still leaving a lasting impression.
Summed up, this is a delightful read chucked full of the type of fantasy which invites to dream and makes the impossible seem true. With the wonderful mixture of silly and eerie, the book draws in and doesn't let go.
And here he is. . .
DAVID NEILSEN!!!
David Neilsen is the author of
Dr. Fell and the Playground of Doom
, and several other odd, weird, supernatural, and occasionally slightly disturbing books and stories. David is also a professionally trained actor who works as a professional storyteller up and down the Hudson River Valley and in New York City. His one-man performances based on the work of H.P. Lovecraft have sent many screaming into the hills in search of their sanity.
You can find out more about David at. . .
https://david-neilsen.com