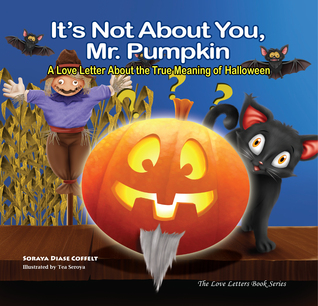 A Love Letter About the True Meaning of Halloween
by Soraya Diase Coffelt
Illustrated by Tea Seroya
Morgan James Publishing
Picture Book
Ages 5+
32 pages
Halloween has become one of the most popular and commercially profitable holidays in America, yet the true origin of the day is often missed. Almost everyone equates "trick or treat" with Halloween, but what events were the catalyst behind this centuries-old tradition?
This delightfully illustrated children's story is sure to become a tradition for you and your family as October rolls around each year. It will be a helpful tool to instruct children on the important historical background behind this holiday and to reflect on what is most important
.
MY TIDBITS
Ghosts, witches, vampires and Jack-o-Lanterns--these are some of the things that first come to mind when anyone mentions Halloween. And kids? Well, they immediately dream of all the trick or treating candy involved. But the origins of Halloween aren't about fun and dressing up. The practice is hundreds if not thousands of years old. This book gives the history in a way kids will understand, while letting the Christian viewpoint seep through. And all of this without being preachy.
The entire thing is written as a letter from a little boy to a pumpkin. It's not only cute but takes on a very believable children's voice and makes it easy for kids to connect to the story in a way that doesn't feel like facing a text book. The history isn't explained with the dryness that such things usually have, but there's enough humor and child-like insight thrown in to make it enjoyable. . .almost like an interesting conversation. The facts are interesting and kids will find some of them amazing. I'm betting that they'll even run back to their friends and try to impress them with some of this new found knowledge.
The illustrations are well done--bright and colorful with a sweet touch which will draw kids in and have them flipping through the book again just to enjoy them. There are some familiar things in the pictures as well as informative sections, creating a nice balance for various levels of readers.
Although this is written from the Christian stand point, I appreciated the way the facts were delivered without instantly adding a direct verdict. Rather, kids and parents are allowed to make their own judgement and are even offered a nice compromise in the end (which I'm not going to expand on and you'll have to read for yourself to find out what.)
Summed up, this is a great little book which offers younger readers a glimpse at the origins of Halloween and it's many aspects in a way that won't leave them feeling bored or preached at. It's a great read for kids ages 4+ and adds a new perspective to one of their favorite times of year.
And here she is. . .
SORAYA DIASE COFFELT!!!
Author Soraya Diase Coffelt is a native of St. Thomas, U.S. Virgin Islands. She is a widow, mother of two sons, lawyer, lay minister, and former judge. She loves ministering to children. Active in her church, she served as a parent volunteer in the children's ministry and then as a volunteer lay children's minister and leader for over 15 years. She has also participated in missionary trips to Honduras and the Amazon Region of Peru. Her late husband, Gordon, supported her wholeheartedly.
All proceeds from book sales will be used to help children in need in the U.S. and around the world. As the Stars of the Sky is a philanthropic project; a new nonprofit foundation dedicated to helping children by changing their lives. We greatly appreciate your help.
www.asthestarsofthesky.org
Lo